Cheese "Cake" with Dried Fruit Compote
Holiday 2017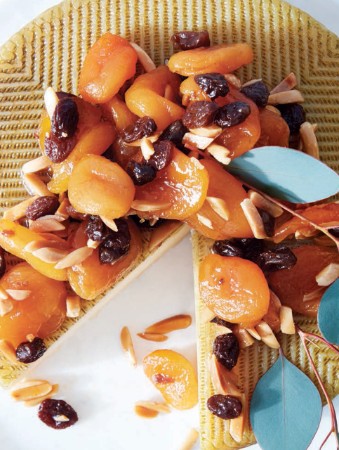 Cheese "Cake" with Dried Fruit Compote
Holiday 2017
BY: Christopher St. Onge
The very simple apricot, raisin and almond compote here belies its dramatic end as decoration to a beautiful cheese wheel. While Manchego does come in smaller wheels that would be perfect here, those can be harder to find. Your best bet is the widely available 3.4-kg wheels cut horizontally into your desired weight, rather than into wedges as is the norm. If you're purchasing dried apricots in bulk, pick out the smallest ones.
DRIED FRUIT COMPOTE
½ cup (125 mL) either Lillet Blanc, late-harvest
Riesling or pear or apricot nectar
¼ cup (60 mL) sugar
¼ cup (60 mL) water
1 tbsp (15 mL) apple cider vinegar
1½ cups (375 mL) small dried apricots
½ cup (125 mL) raisins
⅓ cup (80 mL) slivered almonds
Circular (if possible) piece Manchego cheese, 3 lbs (1.5 kg)
Assortment of fresh herbs and greens to garnish, such as thyme, eucalyptus and cedar
Thinly toasted baguette slices
Assortment of sturdy crackers
1. In a medium pot over medium heat, combine Lillet, sugar, water and apple cider vinegar; stir to dissolve sugar. Add dried apricots and raisins and bring to a boil. Reduce to low; cover and simmer for 20 minutes or until a scant amount of thickened syrup remains, checking frequently in the last 5 minutes to avoid burning.

2. Meanwhile, toast almonds in a 375°F (190°C) oven until lightly golden, 5 to 6 minutes. Stir almonds into hot compote and let stand, covered, until cooled to room temperature. (Compote may be made up to 3 days in advance, covered and refrigerated until serving day. Return to room temperature to serve.)

3. Arrange cheese on a cake stand or pedestal and top decoratively with compote. Garnish with herbs and greens and serve alongside baguette and crackers.
SHARE