Champagne Parfait with Raspberry Sauce
Temps des Fêtes 2004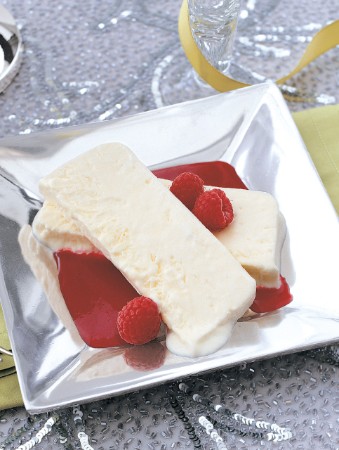 Champagne Parfait with Raspberry Sauce
Temps des Fêtes 2004
BY: Jennifer McLagan
This dessert can be prepared up to 2 days in advance. The parfait tastes better if you allow it to soften slightly before serving it.
Parfait
4 egg yolks
½ cup (125 mL) granulated sugar
¾ cup (175 mL) Champagne
1 cup (250 mL) whipping cream

Sauce
One 6 oz (170 g) container fresh raspberries
¼ cup (50 mL) icing sugar
½ tsp (2 mL) freshly squeezed lemon juice
1. Beat the egg yolks and sugar with an electric mixer until the mixture becomes light and thick.

2. Add the Champagne and place the mixture over a pan of simmering water. Continue beating until the mixture doubles in size and resembles lightly whipped cream. This will take about 10 minutes.

3. Remove the bowl from pan and place in a larger bowl filled with ice cubes and water. Stir occasionally with a wire whisk, until cool. Meanwhile, line an 8 x 4-inch (1.5 L) loaf pan with plastic wrap.

4. While the mixture is cooling, whip the cream just until soft peaks form. Then whisk into the cooled Champagne mixture until blended. Pour into the prepared pan and place in the freezer overnight.

5. To make the sauce, place all the ingredients in a food processor and purée. Pass the mixture through a fine sieve to remove the seeds. You will have about ¾ cup (175 mL).

6. To serve, cut the parfait into slices and serve with the sauce, garnished with fresh raspberries.
SHARE