Celebration of Tomatoes
Automne 2013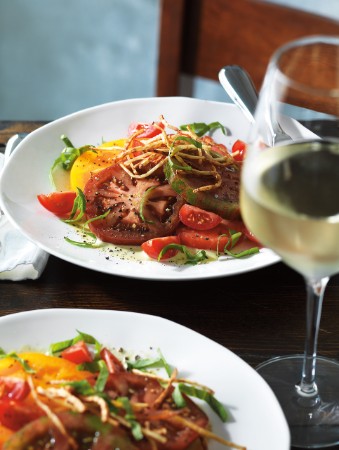 Celebration of Tomatoes
Automne 2013
BY: Jamie Kennedy
This deceptively simple dish truly celebrates the deliciously complex flavours and intense balance of sweetness and acidity in our fresh, field-grown Ontario tomatoes.
DRESSING
2 egg yolks
1 tbsp (15 mL) fresh lemon juice
1 tsp (5 mL) white wine vinegar
1 tsp (5 mL) Dijon mustard
2 tbsp (30 mL) fresh basil leaves
5 tbsp (75 mL) sunflower oil
Salt and freshly ground black pepper to taste
2 tbsp (30 mL) 35% whipping cream

CELERY ROOT
1 cup (250 mL) sunflower oil
½ cup (125 mL) julienne of celery root
Salt to taste

TOMATOES
6 fresh tomatoes of different heirloom varieties
12 fresh cherry tomatoes
12 mature arugula leaves, thinly sliced
Salt and freshly ground black pepper to taste
1 Add egg yolks, lemon juice, vinegar and mustard to bowl of a food processor; pulse to combine. Add basil leaves and process until chopped. With motor running, slowly add sunflower oil through feed tube. Season with salt and pepper. Add cream and pulse to bring together. Set aside dressing.

2 For the celery root, heat oil to 325°F (160°C) in a small saucepan. Fry celery root until crispy and golden, about 3 minutes. Remove with a slotted spoon to a paper-towel-lined bowl; season with salt and reserve.

3 Slice heirloom tomatoes into thick rounds and cherry tomatoes into quarters. Pour a little pool of dressing on each of six salad plates. Season tomatoes with salt and pepper and arrange an equal portion on each plate. Divide celery root between plates and garnish each with a scattering of arugula.
SHARE