Caviar Cocktail Cookies
Temps des Fêtes 2017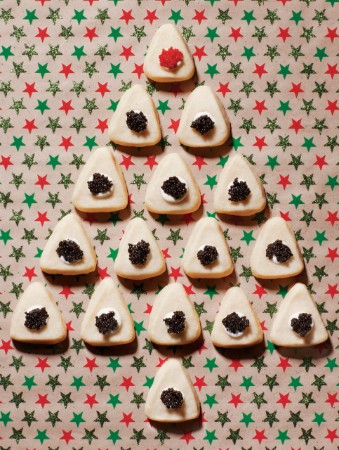 Caviar Cocktail Cookies
Temps des Fêtes 2017
BY: Monda Rosenberg
Buttery gems of shortbread are a smart holder for precious caviar. So much prettier and tastier than the classic hollowed-out mini potato and much easier and more elegant than eating off a spoon. Make the cookies way ahead if you like, but fill just before serving.
1 cup (250 mL) unsalted butter, at room temperature
½ cup (125 mL) icing sugar
1 tsp (5 mL) salt
2 cups (500 mL) all-purpose flour, divided
Finely grated zest of 1 lemon (optional)
¼ cup (60 mL) milk
½ cup (125 mL) sour cream or crème fraîche
3 1/2 oz (100 g) caviar, chilled
1. Place butter, sugar and salt in a food processor. Whirl, scraping down the sides of the bowl partway through, until very creamy, about 30 seconds. Pour about half the flour over this mixture and scatter lemon zest overtop. Pulse just until blended into dough, about 10 times. Add remaining flour and pulse just until mixed into dough, about 15 pulses. Scrape down sides occasionally. Over-mixing toughens cookies.

2. With machine running, slowly pour milk through the feed tube just until the dough starts to come together in a ball. You may not need all the milk. Scrape dough onto a large sheet of plastic wrap. With floured hands gather into a smooth ball. Wrap and refrigerate 1 hour or up to 3 days.

3. To bake, preheat oven to 325°F (160°C).

4. Remove dough from refrigerator and let sit until soft enough to roll easily. Using a rounded teaspoon of dough, roll between your palms into a small ball. It should be about 1 inch (2.5 cm) wide. To produce a triangle-shaped cookie, press the round cookie ball to about a ¼-inch (5-mm) thickness. Use the side of 2 fingers to press the top part of the round into a point. Then use your thumbs or a finger to create a straight edge on the bottom of the triangle. Transfer to a parchment-lined baking sheet and repeat with remaining dough. Or for a round cookie base, place a 1-inch (2.5-cm) ball of dough on a parchment-lined baking sheet. Press down with your palm or bottom of glass to about ½-inch (1-cm) thickness.

5. To make an indent in the centre of cookies, steady a cookie with the thumb and finger of one hand, and with the pinky finger of the other (or the round end of a wooden spoon) slowly make a deep indent in the centre of each. Do not go all the way to the baking sheet.

6. Bake in the top third of oven until cookies feel firm when pressed and bottoms are golden, from 18 to 20 minutes. While still warm, dent centres again if necessary. Cool on pan 5 minutes, then remove to racks to cool completely. Repeat with remaining dough. Store cooled cookies in airtight containers at room temperature up to a week or in the refrigerator or freezer for 2 weeks.

7. Just before serving, fill indentations in cookies with a small dab of sour cream, followed by caviar.
SHARE