Cauliflower Soup with Duck Garnish
Winter 2002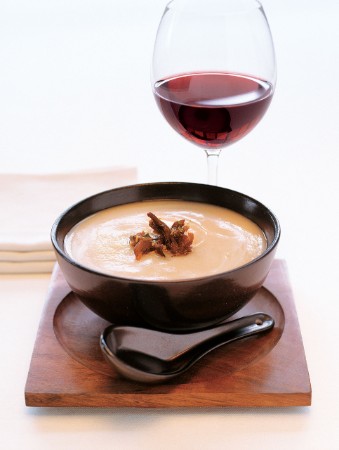 Cauliflower Soup with Duck Garnish
Winter 2002
BY: Marilyn Bentz-Crowley and Joan Mackie
Crispy shreds of duck provide a crunchy contrast to this smooth soup. The soup and shredded duck can be made ahead and refrigerated, but wait until just before serving to sauté the duck shreds.
2 tbsp (25 mL) olive oil
2 duck legs or 4 chicken thighs, skinned
1 onion, peeled and diced
2 garlic cloves, sliced
4 cups (1 L) chicken stock
1 large head cauliflower, broken into florets about 10 cups (2.5 L)
1/2 tsp (2 mL) chopped fresh rosemary
1 tsp (5 mL) chopped fresh thyme

Garnish
Duck shreds
1/4 cup (50 mL) chopped parsley
1-1/2 tsp (7 mL) finely grated lemon zest
1. Heat 1 tbsp (15 mL) oil in a soup pot or large saucepan over medium heat. When hot, add duck legs. Sauté, turning occasionally, until browned, about 10 minutes. Remove from pot. Pour off all but 1 tbsp (15 mL) fat. Add onion and garlic. Cook 2 to 3 minutes or until softened. Stir in stock. Bring to a boil. Return duck legs to stock, reduce heat and partially cover. Simmer 30 minutes for duck legs or 20 minutes for chicken thighs or until meat is cooked and tender.
2. Remove legs or thighs from soup. Add cauliflower, rosemary and thyme. Bring to a boil. Simmer 5 to 8 minutes or until cauliflower is very soft. Puree soup in a blender or food processor and return to pot. Reheat.
3. Using your fingers or two forks, shred duck meat and discard bones. Heat remaining 1 tbsp (15 mL) oil in a small frying pan over medium-high heat. Add duck and sauté 5 to 7 minutes or until browned and crispy. Ladle soup into shallow bowls. Top with a mound of duck shreds in the centre and sprinkle with garnishes.


SHARE