Castle Pleaser
Temps des Fêtes 2014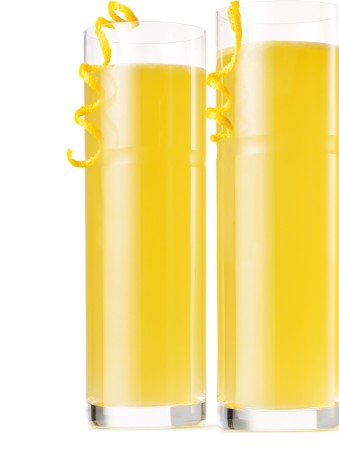 Castle Pleaser
Temps des Fêtes 2014
BY: Fairmont Chateau Laurier
Half the pleasure of this drink, invented at the regal Fairmont Chateau Laurier in Ottawa, is the fun of watching it being prepared, with the dramatic flaming of a fresh rosemary sprig in Chartreuse.
1 sprig fresh rosemary
½ oz Chartreuse
1½ oz Ungava Gin
½ oz Grand Marnier
¾ oz fresh lemon juice
¾ oz Rosemary Orange Simple Syrup (recipe follows)
Soda water
1 Place rosemary sprig in the bottom of the metal part of a two-part (Boston-style) cocktail shaker and add Chartreuse. Using a lighter, flame the rosemary (the essential oils and alcohol will briefly ignite). Strain Chartreuse into the mixing-glass part of the shaker and discard rosemary. Add gin, Grand Marnier, lemon, simple syrup and ice to the mixing-glass. Combine the mixing glass with the metal part and shake cocktail well. Pour into Collins glass and top with soda. Garnish with fresh or candied orange peel, if desired.

ROSEMARY ORANGE SIMPLE SYRUP

Combine 1 cup (250 mL) sugar, 1 cup (250 mL) water, a sprig of rosemary and the peel (cut into strips, no white pith) from half an orange in a saucepan over high heat, stirring to dissolve sugar until it boils. Remove from heat and cool for one hour, then strain into a clean container.
Makes 1 1/3 cups (330 mL)
SHARE