Carrot, Cranberry & Red Bulgur Pilaf
Holiday 2017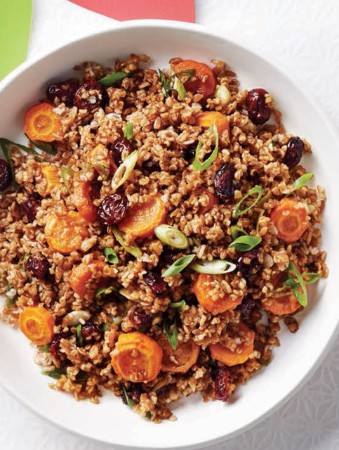 Carrot, Cranberry & Red Bulgur Pilaf
Holiday 2017
BY: Amy Rosen
Switch up your sides with this modern approach to an ancient grain—red bulgur. Colourful and hearty with a delectable pomegranate dressing, the roasted carrots and cranberries add familiarity and extra wholesomeness.
1 cup (250 mL) whole-grain red bulgur (such as Bob's Red Mill)
2 cups (500 mL) water
1 bunch, about five medium carrots, peeled and sliced into ½ inch (1 cm) coins
2 tsp (10 mL) olive oil
Pinch of salt
½ cup (125 mL) dried sweetened cranberries
3 green onions, thinly sliced on the bias

VINAIGRETTE
2 tbsp (30 mL) pomegranate molasses
2 tbsp (30 mL) fresh lemon juice
1 tbsp (15 mL) extra virgin olive oil
Sea salt and black pepper to taste
1. Preheat oven to 425°F (220°C).

2. Combine bulgur and water in a medium pot. Bring to a boil, cover and reduce heat to a simmer. Cook until tender, about 12 minutes. Drain off any excess water and fluff bulgar with a fork. Tip into a bowl and set aside to cool.

3. Toss carrots with olive oil and salt and spread evenly on a baking sheet. Roast, tossing once or twice, until tender and browned, about 30 minutes.

4. To the cooked bulgur, add cooked carrots, dried cranberries and green onions. Combine vinaigrette ingredients and toss with bulgur mixture. Taste and add more salt if needed. Serve warm, alongside turkey and roasted Brussels sprouts.
SHARE