Caraway Pretzels with Cheddar & Ale Fondue
Automne 2016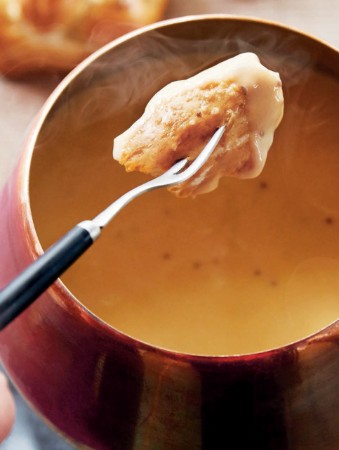 Caraway Pretzels with Cheddar & Ale Fondue
Automne 2016
BY: Christopher St. Onge
It would be hard to imagine Oktoberfest without pretzels. And it's better still if there's a fondue to go with them. Keeping in mind there's lots of food still to come, our fondue isn't cloyingly rich with cheese, instead putting the beer forward and sweetening it just a bit with a little honey.
PRETZELS
¾ cup (175 mL) warm water
2 tsp (10 mL) brown sugar
2 tsp (10 mL) active dry yeast
2¼ cups (560 mL) all-purpose flour
½ tsp (2 mL) salt
2 tbsp (30 mL) butter, softened
Oil for greasing bowl and baking sheet
6 cups (1.5 L) water
2 tbsp (30 mL) baking soda
1 egg beaten with 2 tsp (10 mL) water
1 tsp (5 mL) kosher or Maldon salt
2 tsp (10 mL) caraway seeds

FONDUE
8 oz (250 g) Gouda, coarsely grated
12 oz (375 g) old white cheddar, coarsely grated
2 tbsp (30 mL) cornstarch
1 tbsp (15 mL) butter
3 cloves garlic, thinly sliced
1½ cups (375 mL) ale
2 tbsp (30 mL) honey
1 tbsp (15 mL) grainy mustard
1 tsp (5 mL) Worcestershire sauce
Dash hot sauce
1 For the dough, place the warm water in the bowl of a stand mixer fitted with the dough hook. Add the sugar and stir to dissolve; sprinkley east over. Let stand for 10 minutes or until the yeast begins to foam.

2 In a separate bowl, combine flour and salt. Work butter into flour, using your fingers or a pastry cutter, until mixture resembles coarse crumbs. Add the flour mixture to the yeast mixture and combine on low speed until flour is incorporated. Turn to medium speed and knead for 5 to 7 minutes or until dough is smooth.

3 Lightly grease a large mixing bowl. Place dough in the bowl and turn over to coat in oil. Place a tea towel over bowl and let stand in a warm place for 40 minutes.

4 Divide dough into 6 even pieces. Working with 1 piece of dough at a time, form into an 18-inch (45-cm) log. Form into U shape and twist ends together twice. Fold twisted portion backward along centre of U shape to form a circle, then gently press ends of rope onto circle to seal. Transfer to an oiled baking sheet and repeat with remaining dough. Let rise for 20 minutes.

5 Preheat oven to 425°F (220°C). Prepare a baking sheet with parchment paper.

6 Bring water and baking soda to a simmer in a large pot. Working with a couple of pretzels at a time, poach them in the simmering waterfor 1 minute, remove with a large flat spatula or slotted spoon and place on prepared baking sheet.

7 Brush pretzels with egg wash; combine salt and caraway in a small bowl and sprinkle over pretzels. Bake for 14 to 16 minutes or until golden brown. Remove to a rack to cool (pretzels are best consumed on the day they are made but will keep, tightly covered, for 2 days).

8 For the fondue, gently toss the cheese with cornstarch and set aside. Melt butter over medium heat in a medium pot; add garlic and cook, stirring often, for 2 minutes or until garlic is golden. Remove garlic with a slotted spoon and set aside.

9 Pour beer into pot and drizzle honey over; stir to dissolve honey. Once hot but not boiling, begin adding cheese bit by bit, stirring all the while and waiting until it's mostly melted until adding the next handful. Repeat until all of the cheese is incorporated and mixture is smooth (if fondue looks clumpy, whiz with an immersion blender until very smooth).

10 Stir in mustard, Worcestershire, hot sauce and garlic. Set over a gentle flame to keep warm and serve with the pretzels.
SHARE