Caramelized Fennel & Polenta
Summer 2020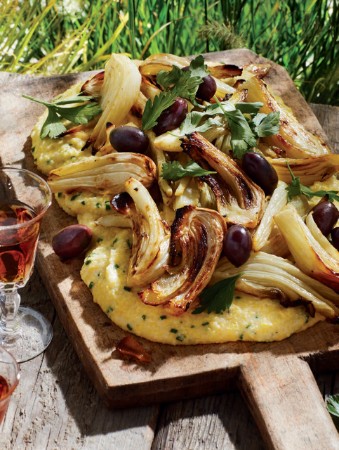 Caramelized Fennel & Polenta
Summer 2020
BY: Christopher St. Onge
It's hard to imagine a better way to feed a crowd. Cook the fennel a few hours ahead and keep it at room temperature until you're ready to prepare the polenta. There's no need to be exact with the amount of chives (or the parsley garnish). There's usually about a cup's worth in those small plastic flats you find at the store—chop them all! A little extra (or a little less) won't hurt.
CARAMELIZED FENNEL
4 medium heads fennel, about 3 lbs (1.36 kg)
¾ tsp (4 mL) salt
2 cloves garlic, thinly sliced
¼ cup (60 mL) unsalted butter, cut into chunks
¼ cup (60 mL) olive oil
4-inch (10-cm) length orange peel, white pith removed
Juice of ½ orange
POLENTA
6 cups (1.5 L) water
2 tsp (10 mL) salt, plus extra as needed
1 ½ cups (375 mL) cornmeal
1/3 cup (80 mL) mascarpone or whipping cream
5 oz (140 g) gorgonzola, cut into chunks
½ cup (125 mL) thinly sliced chives Black pepper to taste
½ cup (125 mL) Kalamata olives
1 cup (250 mL) loosely packed parsley leaves
1 Preheat your grill to 425°F (220°C).
2 Trim the stem ends from the fennel, parallel to the root end, and flush with the top of each bulb. Remove the tough outer layer and cut each bulb in half from top to bottom. Lay flat on a board and cut lengthwise into ½ -inch- thick (1-cm) wedges.
3 Arrange on a piece of foil large enough to accommodate the fennel pieces two-deep with a few inches of excess foil all around. Sprinkle with salt; scatter with garlic and butter. Drizzle olive oil over and tuck in the orange peel. Squeeze the orange juice over. Top with a second piece of foil the same size as the first; gather the sides and ends together, fold and pinch to seal.
4 Place on the grill, close the lid, and cook 20 minutes. Using a sharp knife, make a slit in the centre of the top piece of foil; open up the package leaving the bottom foil intact. Close lid and let cook 6 to 8 minutes longer or until the bottom layer of fennel is golden. Remove to a baking sheet while preparing the polenta.
5 Bring the water and salt to a boil in a medium pot; sprinkle the cornmeal over and stir to combine. Reduce the heat to low and simmer, stirring frequently, for 20 minutes. Add mascarpone and gorgonzola; stir until melted. Stir in chives. Remove from heat, check seasoning and add more salt if necessary and black pepper to taste. Let stand 5 minutes.
6 Turn polenta out onto a large board and spread to almost cover. Top with fennel and garlic; discard orange peel. Drizzle with the oil and butter mixture from the foil packet and top with olives and parsley. Serve straight away.
SHARE