Candied Lemon Slices
Autumn 2015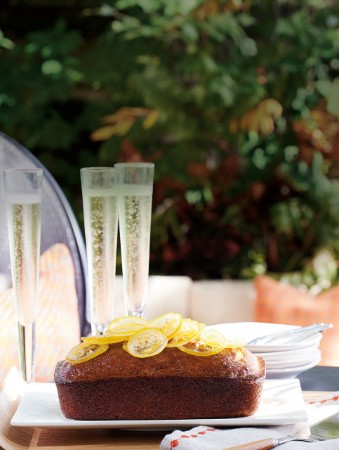 Candied Lemon Slices
Autumn 2015
BY: Signe Langford
Making these sweet-tart decorations isn't hard, but if you are short on time, they can be purchased at fancy grocers. And since we're going to be eating the peel, organic lemons are best. Don't dump the leftover syrup; it's Lemon Simple Syrup now and can be used in drink and dessert recipes!
1 organic lemon, washed
1 cup (250 mL) sugar
1 cup (250 mL) water
1 Wash and slice the lemon as thinly as possible—aim for a maximum of about ⅛-inch (3‑mm) thickness or less. A mandolin is great for this, but a good, sharp knife will work. Remove seeds and discard the 2 solid end bits.

2 Set a wire cooling rack over a piece of foil, parchment or cookie sheet. Set aside.

3 Fill a large bowl with cold water and ice. Set aside.

4 Bring a large pot of water to a low boil, and add the lemon slices. Gently boil for 7 to10 minutes. Lift out with a slotted spoon and add to ice water.

5 In a small saucepan, combine the sugar and water and bring to a gentle boil over medium-high heat. Once the sugar has dissolved, remove the lemon slices from the ice water, and add to the sugar-water pot. Simmer on low for about 15 to 20 minutes. Watch heat and make sure the sugar mixture does not begin to caramelize or turn brown.

6 Use a slotted spoon or tongs to carefully lift out the lemon slices and transfer to a tightly woven wire cooling rack. Tip: if the wires of the rack are too far apart, the slices will sag between them. Arrange so they don't touch or overlap, and let rest to dry for about 1 to 2 hours. Lemon slices will still be a bit sticky when dry.

7 Arrange slices on top of loaf any way you like. Any slices not used to garnish the loaf can be stored between pieces of parchment or wax paper in an airtight container in the fridge for about 1 week.
Makes about 8 large slices from the middle of the lemon
SHARE