Canadian Sweet Potato Pies
Automne 2019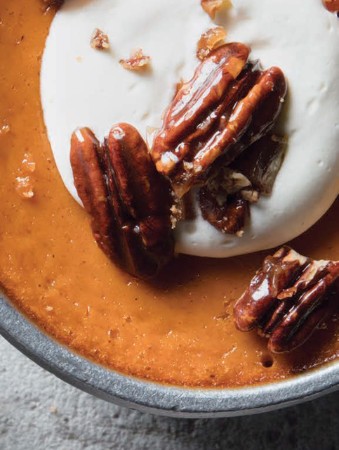 Canadian Sweet Potato Pies
Automne 2019
BY: Signe Langford
Think of this as pumpkin pie's Southern cousin, with the same warm spices, silky texture and iconic fall flavour, but we've added maple essence to bring this Dixieland treat home. Elegant as individual pies—baked and served in pretty little soufflé dishes or individual casseroles—the recipe works family-style too, and we've made it super easy by switching out the pastry crust for a crunchy nut and graham bottom. Serve with a dollop of whipped cream or scoop of vanilla ice cream and a garnish of ready-made praline pecans.
2 large sweet potatoes
16 small square graham crackers
3/4 cup (175 mL) raw pecans
1/2 cup (125 mL) melted butter
1 1/4 cups (310 mL) packed brown sugar, divided
1 cup (250 mL) 35% cream
3 free-range eggs
1 tsp (5 mL) maple extract
1 tsp (5 mL) cinnamon
1/4 tsp (1 mL) nutmeg
1/4 tsp (1 mL) fine sea salt
1 Preheat oven to 350°F (180°C).

2 Lightly grease ovenproof baking dishes, sides and bottoms; set aside. This recipe makes 4 cups (1 L) of filling, so the number of individual pies will depend on the size of the pans, but with a typical 4- to 5-inch (10 to 13-cm) dish, six is good, or use one 9-inch (23‑cm) pie pan.

3 Poke sweet potatoes with paring knife all over before cooking in microwave on high or on the "potato" setting, until tender, about 6 minutes (see TIP). Squeeze to test for softness and, once soft to the touch, cut the potatoes open and allow to cool. Then scoop the cooked potato flesh out into a bowl and mash it until smooth. You will need 1½ cups (375 mL) of potato purée.

4 While the potatoes are cooking and cooling, make the crust.

5 Into a food processor, add the graham crackers, pecans, butter, and 1/4 cup (60 mL) of the brown sugar. Blend on high until mixture is a fine crumble.

6 Divide the crumble evenly between the prepared pie dishes then press firmly using the bottom of a small glass or measuring cup, with crust coming up the sides a bit. Arrange the dishes on a baking tray and pop into the oven for 10 to 15 minutes or until deeply golden; set aside.

7 To the potato purée, add the remaining brown sugar, cream, eggs, maple extract, cinnamon, nutmeg and salt. Whisk well to combine and make smooth, though a few lumps are fine.

8 Pour filling into the crusts. Pop back into the oven and bake for 40 minutes or until filling has begun to puff and is set in the middle. For one large 9-inch pie, baking time is closer to 50 to 60 minutes.

9 Serve at room temperature or cool, garnished as desired.
TIP No microwave, no problem! Simply pop the sweet potatoes into a 400°F (200°C) oven and roast until soft, about 40 minutes. This can be done the day before.
Makes 6 individual pies or 1 deep-dish family‑style pie
SHARE