Cacio e Pepe with Smoked Trout & Fresh Peas
Spring 2019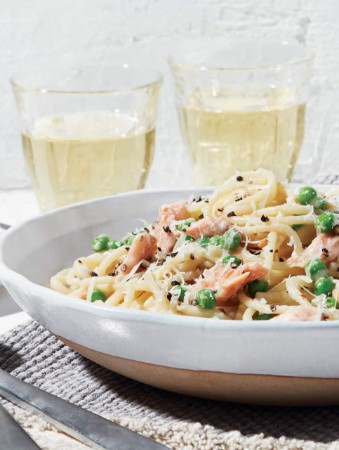 Cacio e Pepe with Smoked Trout & Fresh Peas
Spring 2019
BY: Kristen Eppich
Here is a version of cacio e pepe that is built for spring, with fresh garden peas and flaked smoked trout. Be sure to use dried pasta when making this recipe, as the starchy water created during cooking is essential to the sauce.
1 cup (250 mL) shelled fresh garden peas
1 tbsp (15 mL) black peppercorns, toasted
1¼ cups (310 mL) finely grated
Parmigiano-Reggiano
1 cup (250 mL) grated pecorino
¾ cup (175 mL) water, room temperature
Salt
12 oz (340 g) dried spaghetti
1 tbsp (15 mL) unsalted butter
8 oz (225 g) smoked trout (store-bought)
1 Fill a medium bowl with ice water and set aside. Bring a small pot of water to a boil. Add peas and cook for 2 minutes or until bright green and tender-crisp. Drain and transfer peas to an ice water bath to stop cooking. Once cool, drain again and reserve.

2 Heat a medium saucepan over high heat. Add peppercorns. Toast, swirling the pan occasionally until the peppercorns begin to wiggle and pop, about 1 minute. Remove from heat. Let cool. Crush the peppercorns to a coarse texture using a mortar and pestle or the back of a knife. Reserve.

3 Add grated cheeses to a large, wide bowl. Stir in ¾ cup (175 mL) room-temperature water. Using a spatula, stir the cheese and water together, lightly pressing down with the back of the spatula to form a paste. Set aside.

4 Bring a large pot of salted water to a boil. Add pasta and cook according to package directions or until al dente. Halfway through the cooking time, scoop out ½ cup (125 mL) cooking water and set it aside to cool.

5 Drain pasta and add to bowl with cheese. Stir continuously. As you stir, the cheese paste will turn creamy and coat the pasta. Add ¼ cup (60 mL) of reserved cooking water and stir. Add more cooking water by the tablespoon as needed to make it creamier. Stir in butter and three-quarters of the pepper. Flake in smoked trout and add peas. Turn to mix, then divide between plates and top with more grated cheese and reserved pepper.
TIP: To create a CREAMY SAUCE, let the pasta water cool before adding it to the pasta. If it's too hot, the cheese will seize and be lumpy.
SHARE