Buttermilk Jelly with Wine-Stewed Strawberries
Summer 2013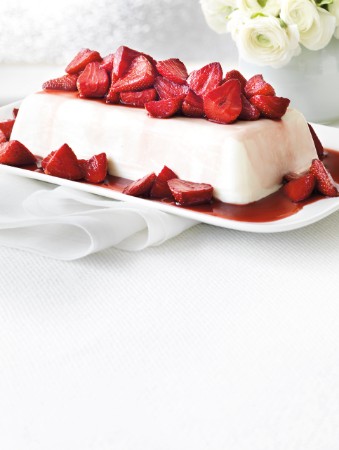 Buttermilk Jelly with Wine-Stewed Strawberries
Summer 2013
BY: Christopher St. Onge
Buttermilk has a pleasing acidity that complements ripe field strawberries beautifully. Beaujolais and Ontario Gamay Noir are both light, fruity wines. If you prefer to use another type of red wine, avoid heavy, oaked examples.
BUTTERMILK JELLY
½ cup (125 mL) cool water
2 envelopes gelatin powder, about 2 tbsp (30 mL)
1½ cups (375 mL) whipping cream
1 vanilla bean, split lengthwise
½ cup (125 mL) sugar
2 cups (500 mL) buttermilk

STRAWBERRIES
3 cups (750 mL) washed, hulled strawberries, halved
2 cups (500 mL) Beaujolais or Ontario Gamay Noir
⅔ cup (150 mL) firmly packed golden brown sugar
1 length of orange peel, 3 inches (8 cm)
1 Lightly grease a 4-cup (1-L) gelatin mould or loaf pan.

2 For the jelly, place ½ cup (125 mL) cool water in a large bowl; sprinkle gelatin over.

3 Combine whipping cream, vanilla bean and sugar in a medium saucepan over medium heat. Bring to a simmer, remove from heat and allow to steep for 10 minutes. Remove vanilla bean halves and pour cream over gelatin mixture; whisk until gelatin is dissolved. Stir in buttermilk. Pour into mould, cover with plastic wrap and refrigerate until set, about 6 hours.

4 Place strawberries in a large non-reactive bowl; set aside. Combine Beaujolais, sugar and orange peel in a medium saucepan over medium heat. Bring to a boil and reduce to 1 cup (250 mL), 7 to 8 minutes. Pour hot wine mixture over strawberries; toss to combine. Cover and refrigerate until chilled, about 3 hours.

5 To serve, turn out buttermilk jelly onto a rimmed serving platter. Spoon strawberries and sauce overtop allowing sauce to spill over sides and collect at the bottom. Thickly slice and serve each piece with a generous spoonful of the strawberries and sauce.
SHARE