Buckwheat Gnocchi with Horseradish, Fiddleheads & Morels
Spring 2017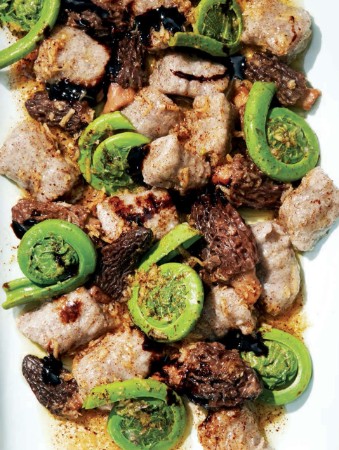 Buckwheat Gnocchi with Horseradish, Fiddleheads & Morels
Spring 2017
BY: Christopher St. Onge
Once you've made homemade gnocchi, it's impossible to go back to the heavy, shelf-stable sort available on grocers' shelves. This springtime version tricks out the little dumplings with buckwheat flour and pairs them with seasonal produce. If you'd prefer to make them ahead of time, freeze in a single layer on baking sheets and, once solid, transfer to a large resealable bag and return to the freezer. They'll keep for a couple of months and are a welcome shortcut when you're pressed for time.
2 cups (500 mL) fiddleheads
2 large unpeeled russet potatoes, about 1½ lbs (750 g)
⅔ cup (160 mL) buckwheat flour
1 cup (250 mL) all-purpose flour, plus extra for dusting
Salt and freshly ground black pepper
1 egg, lightly beaten
6 oz (175 g) small- to medium-size fresh morels, cleaned
2 tbsp (30 mL) plus ½ cup (125 mL, or 1 stick) salted butter
¼ cup (60 mL) freshly grated horseradish
Good-quality aged balsamic vinegar to garnish
1. Wash the fiddleheads in several changes of cool water to remove the papery scales. Trim stems and boil in plenty of salted water for 6 minutes until tender crisp. Meanwhile, prepare an ice bath; using a slotted spoon, transfer cooked fiddleheads to ice bath. Drain and set aside.

2. Cook potatoes in boiling water until tender, about 45 minutes. Drain and let stand for 10 minutes, peel and pass through a food mill or ricer directly onto counter; cool to room temperature. Sprinkle with buckwheat flour, all purpose flour, 2 tsp (10 mL) salt and ¼ tsp (1 mL) finely ground black pepper. Lightly toss, make a well in the centre and add egg; bring potato mixture towards centre and knead 2 or 3 times to bring together.

3. Working with roughly one-third of the dough at a time, roll out, lightly flouring dough to prevent sticking if necessary, into a long rope about ½ inch (1 cm) in diameter. Cut into 1 inch (2.5 cm) lengths. If desired, roll individual gnocco against a fork using your index finger to create a divot on the underside of each, otherwise move directly to a floured baking sheet. Repeat with remaining dough to make about 8 dozen gnocchi (gnocchi may be made ahead and frozen until ready to use).

4. Put a large pot of salted water over high heat and bring to a boil.

5. Meanwhile, cut largest morels in half; melt 2 tbsp (30 mL) butter in a large skillet over medium heat. Once foaming, add mushrooms, season with salt and pepper, and sauté for 3 to 4 minutes or until browned. Remove with a slotted spoon and reserve.

6. Melt remaining ½ cup (125 mL) butter in pan and cook, swirling pan from time to time until foaming has subsided, milk solids have browned and butter smells nutty about 4 minutes. Stir in horseradish, reserved fiddleheads, and morels. Remove from heat and keep warm while preparing gnocchi.

7. Cook gnocchi in boiling water for about 1½ to 2 minutes or until all are floating and swelled. Drain well and carefully add to skillet; return pan to medium heat and gently stir to coat all in brown butter. Divide between 6 warm bowls and top each with a drizzle of balsamic vinegar to taste.
SHARE