Brussels Sprout and Smoked Tofu Sliders
Automne 2017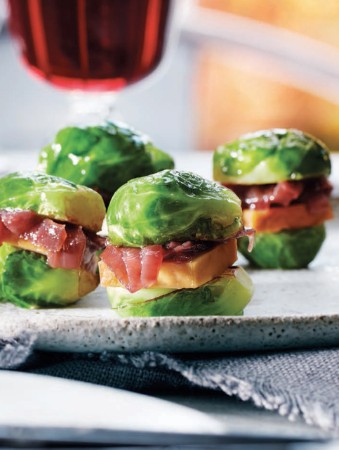 Brussels Sprout and Smoked Tofu Sliders
Automne 2017
BY: Amy Rosen
Caramelized Brussels sprout halves sandwiching smoked tofu and sweet-and-sour onion jam are a playful spin on the mini burger. Smoked tofu—Soyganic brand is excellent—can be found at natural food stores and select supermarkets. The "sliders" can be assembled a few hours ahead of time, refrigerated then reheated briefly in the microwave.
RED ONION JAM
3 tbsp (45 mL) vegetable oil
1 large red onion, about 12 oz (375 g), thinly sliced
½ cup (125 mL) red wine
2 tbsp (30 mL) red wine vinegar
2 tbsp (30 mL) granulated sugar
2 tsp (10 mL) fresh thyme leaves
Salt and freshly ground pepper to taste

SLIDERS
18 small Brussels sprouts, trimmed
4 oz (125 g) smoked tofu
2 tbsp (30 mL) vegetable oil
18 toothpicks
Maldon salt to garnish
1. For the red onion jam, heat oil in a medium frying pan over medium heat. Add onions. Cook, stirring occasionally, until tender, 12 to 15 minutes. Reduce heat if they start to brown. Add wine, vinegar, sugar and thyme. Adjust heat to maintain gentle simmer. Cook, stirring occasionally, until mixture is soft and thick, about 40 minutes. Season with salt and pepper. Transfer to a plate to cool then transfer to an airtight container. (Jam will keep in fridge up to 2 weeks.) Serve at room temperature.

2. For the sliders, bring a medium pot of salted water to a boil. Cook Brussels sprouts until just tender, about 5 minutes. Transfer to bowl of ice water. Cool and drain. Halve lengthwise and drain on paper towel, cut-side down. (Prepared Brussels sprouts can be covered and refrigerated up to 4 hours in advance.)

3. Cut tofu into thin squares to fit Brussels sprouts.

4. Heat oil in a large nonstick frying pan over medium-high heat. Add Brussels sprouts cutside down. Cook until nicely caramelized, about 2 minutes. Flip and cook briefly just to heat tops, about 15 seconds. Drain on paper towel.

5. Add tofu to pan. Cook briefly to heat through, about 10 seconds per side.

6. Arrange half of Brussels sprouts, cut-side up. Top with tofu and some onion jam. Top with remaining Brussels sprouts and secure with toothpick. Sprinkle with a pinch of Maldon. Serve immediately.
SHARE