Brunchtime Berry Crunch
Spring 2014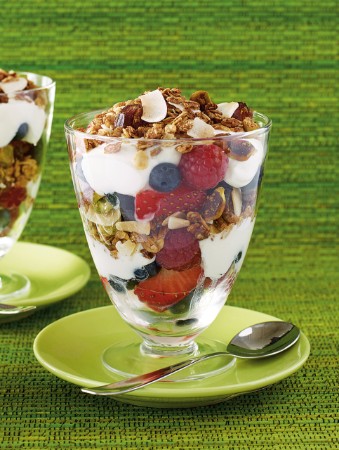 Brunchtime Berry Crunch
Spring 2014
BY: Heather Trim
Decreasing sugar doesn't have to mean brunch time letdown. Sweeten your granola with strong flavourful local buckwheat honey. Instead of overly sweet dried fruit, choose Medjool dates. While often thought of as dried fruit, they are actually fresh, packaged straight from the tree. An added bonus, they are rated low to medium on the GI (glycemic index) scale. You'll have lots of granola leftover for breakfast or to use as part of a crumble topping for fruit. It lasts well in an airtight container for a couple of weeks—or freeze it.Quinoa flakes and large-flake coconut is available in health food stores.
CRUNCHY GRANOLA
6 cups (1.5 L) large-flake oatmeal
1 cup (250 mL) wheat bran or oat bran
1 cup (250 mL) quinoa flakes
1 tbsp (15 mL) ground cardamom
2 tsp (10 mL) cinnamon
1½ tsp (7 mL) salt
1 cup (250 mL) shelled pistachios
¾ cup (175 mL) buckwheat honey
½ cup (125 mL) vegetable oil
1 egg white
1 tbsp (15 mL) vanilla
1 cup (250 mL) large-flake unsweetened coconut
1 cup (250 mL) Medjool dates, pitted and coarsely chopped

3 cups (750 mL) mixed berries
2 cups (500 mL) plain yogurt
1 Preheat oven to 325°F (160°C). Line 2 rimmed baking sheets with parchment paper.

2 In a large bowl, place oatmeal, wheat bran, quinoa flakes, cardamom, cinnamon, salt and pistachios. Stir.

3 Whisk honey with oil, egg white and vanilla. Pour over oat mixture and stir well. Divide between 2 baking sheets. Bake in preheated oven for 25 minutes. Stir in coconut, then continue to bake until a deep golden brown, 10 to15 more minutes. Remove from oven and stir in dates.

4 To assemble, divide half the berries between each parfait cup or 1-cup (250-mL) glasses.Follow with half the yogurt and 3 tbsp (45 mL)granola. Repeat, ending with 3 tbsp (45 mL)granola on top.
SHARE