Brioche Grilled Cheese with Camembert, Tapenade & Home-Roasted Peppers
Autumn 2009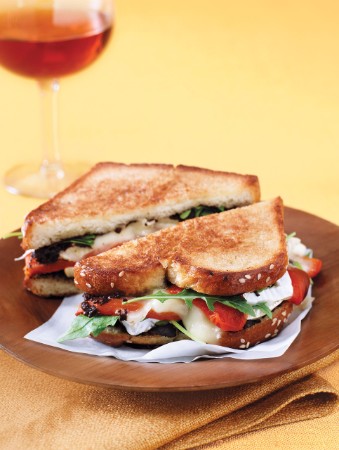 Brioche Grilled Cheese with Camembert, Tapenade & Home-Roasted Peppers
Autumn 2009
BY: Heather Trim
Ontario makes several runny cow's milk brie and Camembert cheeses. But for a change of pace, search out Ramembert from Ewenity Dairy in Fergus, Ontario. A Camembert-style cheese made from either raw or pasteurized sheep's milk, it's available at cheese stores or at Ewenity Dairy Cooperative (www.ewenity.com).
2 tsp (10 mL) butter, at room temperature
4 slices brioche or egg bread
Olive tapenade
4 oz (125 g) Ontario brie or Camembert, thinly sliced, or goat cheese
1 home or deli-roasted red pepper
1 small handful baby arugula
1. Spread butter over 1 side of each slice of bread. Spread tapenade over 2 of the slices. Place half the brie over top. Pat pepper dry and cut into wide strips. Set over cheese, followed by arugula, remaining brie and bread, butter-side out.

2. Heat a large frying pan over medium heat. Add sandwiches to pan. Cook until cheese is melted and bread slices are golden, 3 to 4 minutes a side. Press with spatula to help sandwiches stick together better.
SHARE