Breakfast Egg, Crispy Bacon, Heirloom Tomatoes & Brie on Toasted English Muffins
Autumn 2012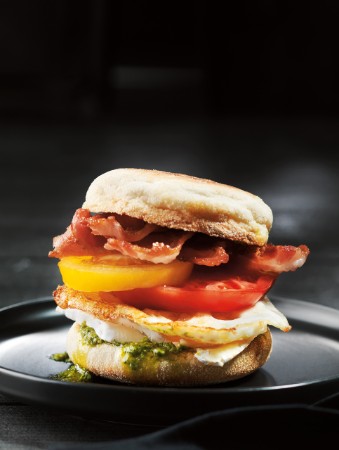 Breakfast Egg, Crispy Bacon, Heirloom Tomatoes & Brie on Toasted English Muffins
Autumn 2012
BY: Heather Trim
Perhaps it isn't the healthiest bet for a breakfast sandwich but, as they say, everything in moderation! So enjoy!
8 strips of bacon
4 eggs
4 English muffins
¼ cup (60 mL) pesto, tapenade
or sun-dried tomato paste
8 small thin slices brie or Camembert,
(2 to 3 oz/60 to 90 g)
2 medium heirloom tomatoes, sliced
1 In a large frying pan, preferably nonstick, cook bacon until crispy. Remove to paper towels.

2 Wipe out all but 1 tbsp (15 mL) bacon fat from pan. Crack eggs into pan and cook as desired, flipping for firmer eggs.

3 Toast muffins, and then lightly spread both sides of muffins with pesto. On bottom half, layer brie then eggs, tomatoes and bacon. Top with remaining muffin halves.
SHARE