Brandied Pear and Butterscotch Tart
Temps des Fêtes 2009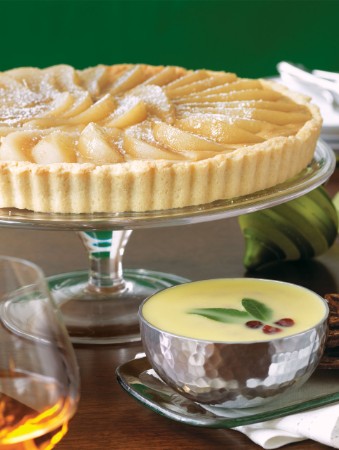 Brandied Pear and Butterscotch Tart
Temps des Fêtes 2009
BY: Tonia Wilson-Vuksanovic
This classic French tart has a fun twist with the taste of butterscotch. It is perfect for dessert or part of a festive brunch. Use Anjou or Bosc varieties for the pears as they keep their shape once poached.
Crust
¾ cup (175 mL) ground almonds
¼ cup (50 mL) sugar
1½ cups (375 mL) all-purpose flour
½ tsp (2 mL) salt
½ cup (125 mL) cold unsalted butter
¼ to ⅓ cup (50 to 75 mL) ice water
Pie weights or dried beans for "blind baking" the shell

Poached Pears
½ cup (125 mL) brandy
1½ cups (375 mL) water
1 tsp (5 mL) fresh ginger, finely chopped
½ cup (125 mL) brown sugar
4 firm-ripe pears (firm, not underripe)

Pastry Cream
1 tbsp (15 mL) unsalted butter
1 cup (250 mL) dark brown sugar
3 cups (750 mL) homogenized milk
4 eggs yolks
¼ cup (50 mL) cornstarch
1 tsp (5 mL) salt
⅓ cup (75 mL) poaching liquid
2 tsp (10 mL) vanilla
Icing sugar for garnish
1. Prepare crust by placing the ground almonds, sugar, flour and salt in a food processor. Pulse to combine. Dice the cold butter into small pieces and place in processor. Pulse until the butter is evenly distributed within the flour, and has been processed to about the size of a pea.

2. Gradually add the ice water while pulsing the flour mix. Enough water is added once the mixture holds together when squeezed. Do not add too much water, it should not be too crumbly, nor too moist.

3. Place crumb mixture in a 10-inch (25-cm) fluted tart pan with removable bottom. Flatten mixture firmly into bottom, and all the way up the sides of the pan. Prick the bottom with a fork about 20 times. Place in refrigerator to chill for 30 minutes.

4. Place a piece of foil or parchment paper in tart shell, fill shell with dried beans or pie weights to weigh the pastry down.

5. Heat oven to 375°F (190°C).

6. Bake in oven for 12 minutes, remove foil and beans, rotate tart halfway, and continue baking until the tart shell is light golden, another10 to 12 minutes. Set aside and let cool.

7. In a large saucepan bring to boil the brandy, water, ginger and brown sugar. Decrease heat to low and simmer.

8. Peel, halve and core the pears. Place in saucepan, trying not to overlap. Cover and simmer until the pears are knife-tender, about 10 to 15 minutes, turning over halfway through cooking time. Make sure not to overcook the pears or they will be mushy. Once tender remove from poaching liquid and let cool. Place in refrigerator to chill.

9. Carefully reduce poaching liquid over medium-high heat until it reduces to about ⅓ cup (75 mL). Set aside. (Make sure not to burn this mixture as it will be used to flavour the pastry cream)

10. In a medium saucepan heat 1 tbsp (15 mL) butter until it turns golden. Add brown sugar and 2 cups (500 mL) milk. Simmer until sugar dissolves.

11. In a medium bowl whisk together until well combined remaining 1 cup (250 mL) milk, egg yolks, cornstarch, salt, poaching liquid and vanilla. Make sure cornstarch is fully dissolved.

12. Slowly whisk hot milk mixture into cold milk mixture; scrape pan clean. Return everything to the pot by pouring through a sieve, bring to a boil over high heat while constantly whisking along bottom of pan. Once bubbles begin to appear on the surface of custard turn heat to low and continue to simmer for 1 minute. Take off heat and continue to whisk thickened custard to release some of the heat. Place in a bowl and cover the surface with plastic wrap, place in refrigerator to chill completely.

13. Assemble the tart by removing tart shell from pan. Fill shell with chilled pastry cream which has been vigorously whisked just before using.

14. Slice pears lengthwise into equal sized slices, about 6 slices per half. Pat pear slices dry with paper towel to absorb all the excess moisture, make sure to dry well.

15. Arrange slices in a pinwheel fashion around the tart, and sprinkle with icing sugar just before serving.
SHARE