Brandied Fruit
Holiday 2007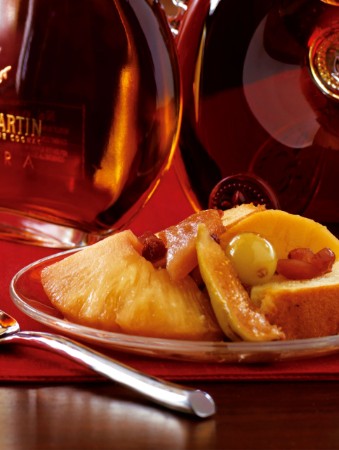 Brandied Fruit
Holiday 2007
BY: Lucy Waverman
Our fruit totaled 4½ pounds (2.25 kg) when cleaned, which is why we used the quantity of sugar that we did. It should be a ½ cup (125 mL) of sugar to each pound of fruit. Use this to give away to friends or serve over ice cream or pound cake.
1 pineapple, peeled and cored
3 mangoes, peeled and pitted
3 Bartlett pears, peeled and cored
2 cups (500 mL) seedless green grapes
4 fresh figs, quartered
1 cup (250 mL) dried cranberries
2¼ cups (550 mL) sugar
8 cups (2 L) Dorlan VS Cognac
1. Slice pineapple, mangoes and pears. Place all fruit in a very large bowl. Add sugar and toss to coat. Leave to stand for 2 hours or until sugar has become a syrup.

2. Pack fruit with syrup into a very large crock or jar. Add brandy and press a piece of plastic wrap into top of brandy to submerge fruit. Let sit in a cool dark place for 4 weeks or until fruit is brandied and slightly shrunken.
SHARE