Brandied Apricot Pandowdy with Chocolate Sauce
Early Summer 2003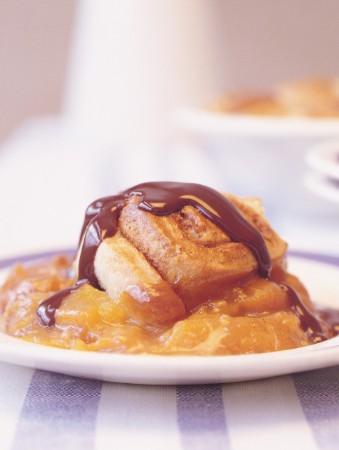 Brandied Apricot Pandowdy with Chocolate Sauce
Early Summer 2003
BY: Anna Olson
Probably the most oddly-named dessert, pandowdy most likely earns its title from its rather rough, "dowdy," appearance in the pan. Pandowdies originated in the southern States when cooks would bake their biscuit scraps on top of ripe fruits. This recipe has been urbanized with its splash of brandy and pinwheel biscuit topping. A rich elegant chocolate sauce serves to seal the deal!
Pastry
3 cups (750 mL) all-purpose flour
1 tbsp (15 mL) baking powder
1/2 tsp (2 mL) salt
1/4 tsp (1 mL) ground nutmeg
3/4 cup (175 mL) unsalted butter, cut into pieces and chilled
1/2 cup (125 mL) pure maple syrup
1/2 cup (125 mL) whipping cream
1 1/2 tsp (7 mL) pure vanilla extract

Pinwheel Filling
1/4 cup (50 mL) unsalted butter, room temperature
1/2 cup (125 mL) brown sugar
2 tsp (10 mL) cinnamon
1 tbsp (15 mL) brandy

Fruit Filling
6 cups (1.5 L) apricots, pitted and quartered
1/2 cup (125 mL) brown sugar
1/4 cup (50 mL) brandy
3 tbsp (45 mL) all-purpose flour
1 tsp (5 mL) pure vanilla extract
1 egg mixed with 2 tbsp (25 mL) water for brushing

Chocolate Sauce
3/4 cup (175 mL) whipping cream
6 oz (175 g) semi-sweet chocolate, chopped
1/4 tsp (1 mL) cinnamon
1. Preheat oven to 350°F (180°C).
2. For biscuit topping, combine flour, baking powder, salt and nutmeg. Cut in butter until the texture is just rougher than cornmeal.
3. Whisk together maple syrup, cream and vanilla and add all at once to flour mixture. Stir until just combined. Shape into a disc and chill while preparing pinwheel filling.
4. For pinwheel filling, beat together butter, brown sugar, cinnamon and brandy until smooth.
5. On a lightly floured surface, roll out biscuit dough into a rectangle 12 x 18-inches (30 x 45-cm), and 1/2-inch (1-cm) thick.
6. Spread filling evenly on biscuit and trim any rough edges. Roll up the biscuit starting from one of the long sides to create a pinwheel-like log. Chill while preparing fruit filling.
7. For fruit filling, toss apricots in a bowl with brown sugar, brandy, flour and vanilla. Pour fruit into an 8-cup (2-L) baking dish.
8. Remove biscuit from refrigerator and slice into 1-inch (2.5-cm) thick pinwheels.
9. Arrange pinwheels atop fruit, leaving about 1/4-inch (5-mm) space between them for expansion while baking. Brush pinwheels with egg wash and bake for 50 to 60 minutes, until the pandowdy is an even golden brown.
10. For chocolate sauce, heat whipping cream to just below a simmer. Pour over chopped chocolate and let sit 30 seconds. Stir gently with a spoon and stir in cinnamon. Sauce can be prepared ahead of time, chilled and reheated when ready to serve. Serve pandowdy warm with warm chocolate sauce poured over, once plated.
SHARE