Braised Venison With Cherries
Holiday 2008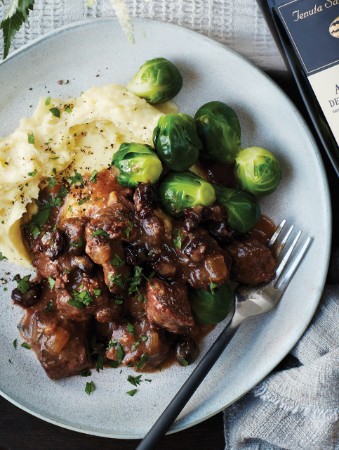 Braised Venison With Cherries
Holiday 2008
BY: Lucy Waverman
If venison is unavailable, lamb prepared in this manner, particular lamb shoulder, also works beautifully. Some venison is already cut into stew pieces so it is often hard to tell which part of the animal it comes from, but shoulder or chuck is the best. If you do not have an ovenproof sauté pan or Dutch oven, prepare in a skillet and place in an ovenproof casserole. Serve with mashed potatoes and steamed Brussels sprouts.
2 lb (1 kg) venison stew, cut into 1 to 2-inch (2.5 to 5-cm) pieces

Marinade
1 cup (250 mL) red wine
1 bay leaf
1 tbsp (15 mL) gin
1 inch (2.5 cm) piece orange rind

Sauce
¼ cup (50 mL) flour
Salt and freshly ground pepper
2 tbsp (25 mL) vegetable oil, plus extra if needed
1 cup (250 mL) chopped onions
1 tsp (5 mL) fresh thyme
1 tsp (5 mL) chopped fresh rosemary
1 tsp (5 mL) chopped garlic
3 cups (750 mL) beef stock
1 tbsp (15 mL) redcurrant jelly
1 tbsp (15 mL) balsamic vinegar
½ cup (125 mL) dried cherries
¼ cup (50 mL) port
2 tbsp (25 mL) chopped parsley
1. Place venison in a dish. Combine wine, bay leaf, gin and orange rind and pour over venison. Marinate in the refrigerator for 4 hours or overnight.

2. Preheat oven to 300ºF (150ºC).

3. Remove venison from refrigerator. Drain well, discard marinade and use paper towels to pat venison dry. Season flour with salt and pepper and toss with venison. Heat 1 tbsp (15 mL) oil in a Dutch oven or ovenproof sauté pan over medium-high heat. Brown venison in batches for about 1 minute per side or until brown, adding more oil to pan if needed. Reserve.

4. Add remaining 1 tbsp (15 mL) oil to pan. Stir in onions, thyme, rosemary and garlic and sauté for 2 minutes or until onions have softened. Add stock and bring to boil. Whisk in redcurrant jelly and balsamic vinegar. Return venison to pan, cover, place in the oven and braise for 1½ hours or until meat is fork tender.

5. Place cherries in a small pot, cover with port, bring to a boil and boil for 1 minute. Remove from heat and allow cherries to plump. Add cherries and port to Dutch oven and simmer for 5 minutes or until flavours are combined. If sauce is too thin then reduce until desired thickness. Sprinkle with chopped parsley before serving.
SHARE