Blooming Rosé with Wild Strawberries
Été 2018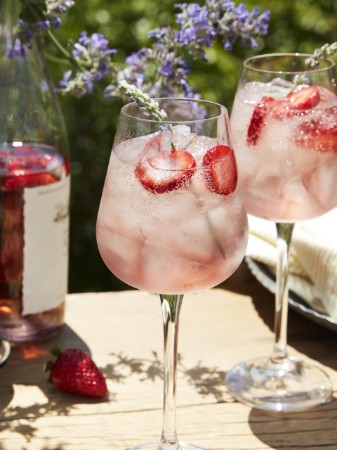 Blooming Rosé with Wild Strawberries
Été 2018
BY: Victoria Walsh
Brightly coloured and flavour-infused, this cocktail is prepared in the bottle then simply lengthened in the glass with a splash of soda. With very little prep, you'll impress guests with a vibrant, elevated and ready-to-pour spritzer.
8 wild strawberries or 4 large strawberries plus more for garnish
1 bottle (750 mL) rosé wine, preferably dry and crisp
6 oz crème de violette
6 to 9 oz club soda
6 lavender sprigs, for garnish (optional)


1. Stem strawberries. If using large strawberries, cut into quarters. Slice quarters into thin slices. Pour 1 cup (250 mL) wine into another glass or resealable container, such as a Mason jar. Set aside for another use. Carefully add strawberry pieces to bottle. Cap or recork. Gently shake or swirl to incorporate. Refrigerate until flavours infuse, 2 to 3 hours.
2. Just before serving, add crème de violette. Adding it any earlier will cause the strawberries to discolour. Cap or recork. Gently shake or swirl to incorporate. Divide, pouring between ice-filled wine glasses garnished with strawberries. Top with soda to your liking and garnish with lavender sprigs, if desired.



SHARE