Blinis with Three Toppings
Winter 2013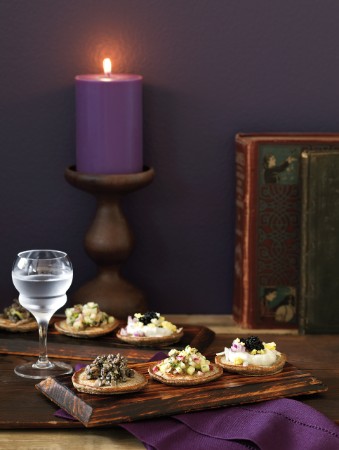 Blinis with Three Toppings
Winter 2013
BY: Lucy Waverman
Russians serve blinis with all kinds of toppings, not just caviar. Because the blinis are small the toppings are finely chopped to sit on top easily. The Russian zakouski table is a large table holding hors d'oeuvres that are served before the meal. Blinis are always a part of it. Traditionally they are made with yeast, but this method makes excellent ones. Blinis freeze well.
1 cup (250 mL) unbleached all-purpose flour
1/3 cup (80 mL) buckwheat flour
1 tsp (5 mL) baking powder
½ tsp (2 mL) baking soda
1 egg
½ tsp (2 mL) salt
Pinch sugar
1½ cups (375 mL) buttermilk
3 tbsp (45 mL) unsalted butter
1 Combine all-purpose and buckwheat flours, baking powder and baking soda in a bowl. In a separate bowl, stir together egg, salt, sugar and buttermilk. Stir liquid ingredients into dry ones. Let stand 20 minutes.

2 Melt 1 tbsp (15 mL) butter in a nonstick skillet over medium heat. Drop batter into pan in ½-tbsp (7-mL) portions; do not crowd. Cook about 1 minute or until mixture bubbles and bottom is crisp. Turn over and cook second side for another 45 seconds or until golden. Repeat, adding butter as needed.

SOUR CREAM AND CAVIAR
If real Russian caviar is available then this is the only way to serve it other than eating directly from the jar. These garnishes can be used with the other toppings too. Substitute salmon caviar or 4 oz chopped smoked salmon.

2 hard-boiled eggs, shelled
½ cup (125 mL) finely chopped red onion
½ cup (125 mL) sour cream
1 oz (30 g) or more, caviar

1 Separate the egg yolk from white, then grate both into separate dishes. Place onion in a third dish and sour cream in another one. Serve with the caviar for guests to help themselves.

Serves 6


HERRING TARTARE
Russians would probably use Matjes herring for this, but my method uses herring pieces that are pickled and then jarred.

1½ cups (375 mL) chopped pickled herring
½ cup (125 mL) finely chopped red onion
½ cup (125 mL) peeled and finely chopped tart apple
2 tbsp (30 mL) chopped dill
Salt and freshly ground pepper

1 Combine herring with red onion and apple in a medium bowl. Stir in dill. Season generously with salt and pepper.

Makes 2 cups (500 mL)


RUSSIAN MUSHROOM CAVIAR
Many Russians can't afford real caviar so they make mock caviar with finely chopped vegetables. Mushroom caviar is wonderful. It looks like the real thing and has a subtle, interesting flavour. It will keep, refrigerated, for about a week. You can use regular cultivated mushrooms, if desired, but portobello mushrooms give the darkest, most caviar-like look. 

2 tbsp (30 mL) olive oil 
1 cup (250 mL) chopped onion
1 lb (500 g) portobello mushrooms, coarsely chopped
1 tbsp (15 mL) chopped garlic
Salt and freshly ground pepper to taste
Pinch cayenne
1 tbsp (15 mL) fresh lemon juice
2 tbsp (30 mL) chopped fresh dill
2 tbsp (30 mL) sour cream
2 tbsp (30 mL) sliced green onions

1 Heat 1 tbsp (15 mL) oil in large skillet over medium heat. Add onion and sauté until golden, about 5 to 6 minutes.

2 Add remaining oil, raise heat to medium-high. Add mushrooms and garlic to pan and season with salt and pepper. Sauté until all the mushroom liquid evaporates and the mixture is dry, about 6 to 7 minutes. Remove from heat.

3 Spoon onion and mushroom mixture in food processor and process until minced but not puréed.

4 Combine the minced mixture with cayenne, lemon juice, dill, sour cream, green onions, salt and pepper in a bowl. Mix well. Refrigerate until ready to serve.

Makes 1½ cups (375 mL)
SHARE