Black Sesame Crackers with Black Garlic Fig Jam
Automne 2012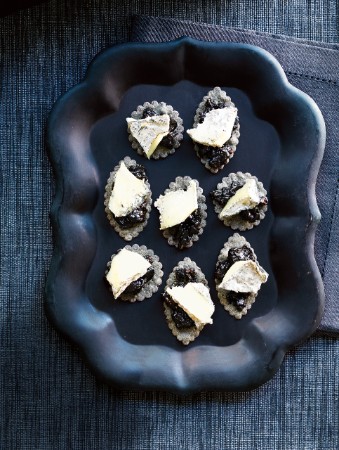 Black Sesame Crackers with Black Garlic Fig Jam
Automne 2012
BY: Christopher St. Onge
These stylish nibbles use a variety of commonly available black ingredients as well as a couple you may not already be familiar with. Black sesame powder is available in Asian markets, but is very simple to make at home (be sure to use fresh sesame seeds as they tend to spoil if left in your cupboard too long). For black garlic, originally a Korean specialty product that is now produced in the U.S. as well, you'll need to visit a gourmet or Korean grocer.
BLACK GARLIC FIG JAM
3 heads Korean black garlic
1 tbsp (15 mL) olive oil
1 onion, quartered and thinly sliced
1 tbsp (15 mL) black mustard seed
1 cup (250 mL) chopped dried Mission figs
½ cup (125 mL) sugar
Sprig fresh thyme

BLACK SESAME CRACKERS
½ cup (125 mL) all-purpose flour
½ cup (125 mL) buckwheat flour
1/3 cup (80 mL) black sesame seed powder (see TIP)
½ tsp (2 mL) black or white sea salt
3 tbsp (45 mL) shortening
2 tsp (10 mL) poppy seeds
½ tsp (2 mL) coarsely ground black pepper
8 oz (250 g) ash-covered goat cheese such as Valençay or Grey Owl
1 For jam, peel papery skin from garlic cloves.Discard skins.

2 Heat olive oil in a small saucepan over medium heat. Add onion and fry 3 to 4 minutes or until just beginning to brown.

3 Add mustard seed, black garlic cloves, figs, 1 cup (250 mL) water, sugar and thyme sprig. Stir until sugar is dissolved.

4 Bring to a boil, reduce heat to low; cover and simmer, stirring occasionally, for 1 hour. Allow jam to cool to room temperature. Remove and discard thyme sprig and turn jam into a small glass bowl or jar. Cover and refrigerate until chilled. Jam will keep for up to a week in the refrigerator.

5 For crackers, combine all-purpose flour, buckwheat flour, sesame seed powder, salt and shortening in the bowl of a food processor. Pulse until mixture resembles meal. Pour ¼ cup (60 mL) warm tap water over and pulse until dough just comes together. Remove toa floured surface.

6 Sprinkle dough with poppy seeds and black pepper. Knead until seeds are evenly distributed and dough becomes somewhat elastic, about 5 minutes. Wrap with cling wrap and refrigerate for 1 hour.

7 Preheat oven to 350°F (180°C).

8 Divide dough into quarters and, working with 1 piece at a time, roll out, on a lightly floured surface, to a scant 1/16 inch (1.5 mm) thickness. Using a 2- to 3-inch (5- to 8-cm) cookie cutter, cut dough into desired shape and place on parchment-lined cookie sheet.Prick each cracker in several places with the tines of a fork. Repeat with remaining dough and bake for 10 to 12 minutes, or until crisp. Allow to cool completely. Crackers will keep, tightly covered, for up to 2 weeks.

9 To serve, spread crackers with a small amount of the jam and top each with a slice of ash-covered goat cheese.

TIP To make black sesame powder, toast 1 cup (250 mL) black sesame seeds in a dry frying pan over medium heat for 3 to 4 minutes or until fragrant. Allow to cool completely. Pulse seeds in a coffee or spice grinder until finely ground and just beginning to clump together. Be careful not to over-process, otherwise the mixture will liquefy.
SHARE