Black Rice Pudding with Cherry Preserves
Automne 2012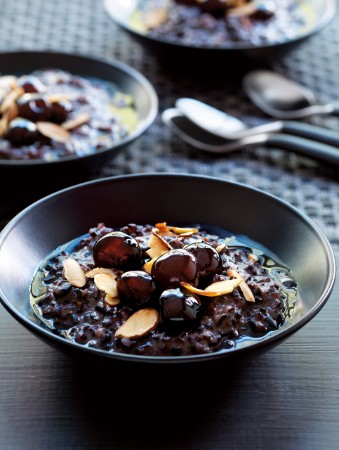 Black Rice Pudding with Cherry Preserves
Automne 2012
BY: Christopher St. Onge
The nutty flavour of black Japonica rice is complemented beautifully by the addition of marzipan and dark, luscious preserved cherries. Amarena cherries are an Italian speciality product worth seeking out but a good black cherry jam also works well.
1½ cups (375 mL) black Japonica rice
½ tsp (2 mL) salt
1½ cups (375 mL) unsweetened almond milk
6 oz (175 g) marzipan, roughly chopped or torn into 1-inch (2.5-cm) chunks
½ tsp (2 mL) vanilla extract
¼ tsp (1 mL) ground cinnamon
1 cup (250 mL) amarena cherries in syrup, or black cherry jam
Toasted sliced almonds to garnish
1 Bring 5 cups (1.25 L) water to a boil in a large saucepan over medium heat. Add rice and salt and return to a boil. Turn heat to low, cover and cook, stirring occasionally, for 40 minutes.

2 Stir in almond milk, marzipan, vanilla extract and cinnamon. Cover and cook for an additional 10 minutes, stirring often, until marzipan is melted and liquid has thickened somewhat. Remove from heat and allow to cool, covered, for 30 minutes.

3 Stir pudding and divide between 6 small bowls or heatproof glasses. Divide amarena cherries or black cherry jam between puddings and sprinkle each with a spoonful of sliced almonds. Serve warm.
SHARE