Beer Barbecue Sauce
Summer 2001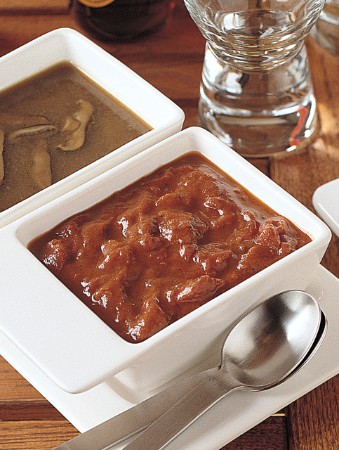 Beer Barbecue Sauce
Summer 2001
BY: Lucy Waverman
Essentially a barbecue sauce with a little extra personality, this sauce will excite those who like barbecue sauces with their meat. Serve it on the side.
1/4 cup (50 mL) ketchup
1/4 cup (50 mL) HP or steak sauce
2 cups (500 mL) chopped canned tomatoes with their juice
2 tbsp (25 mL) brown sugar
1/4 cup (50 mL) wine vinegar
1 cup (250 mL) ale
2 tbsp (25 mL) Dijon mustard
1 tbsp (15 mL) chilli powder
1 tbsp (15 mL) paprika
1/2 tsp (2 mL) dried thyme
Salt and freshly ground pepper
1. Combine all ingredients in pot and bring to boil. Reduce heat to medium and simmer until sauce is thickened but still chunky, about 20 minutes.
SHARE