Beefy Gorditas
Early Summer 2015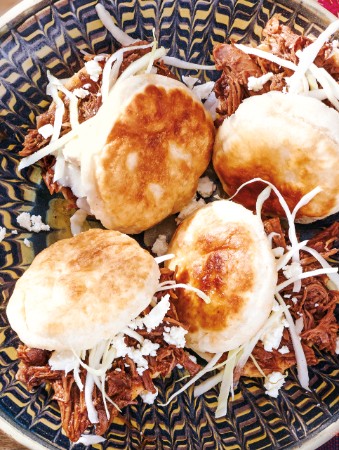 Beefy Gorditas
Early Summer 2015
BY: Amy Rosen
Tender spiced beef is braised in cola before being wedged into homemade fried gordita buns with fixin's. In other words, this will be the hero dish of the night. Note: plan ahead, as the beef needs to marinate, braise and chill before being reheated and served.
1½ tbsp (22 mL) kosher salt
1 tbsp (15 mL) chili powder
1 tbsp (15 mL) brown sugar
½ tsp (2 mL) freshly ground black pepper
1 tsp (5 mL) cumin
5½ lbs (2.45 kg) beef shank (about 3 large)
1 can (355 mL) cola (regular, not Diet or Zero)
½ cup (125 mL) tomato sauce
½ cup (125 mL) water

GORDITAS
2 cups (500 mL) flour
2 tsp (10 mL) baking powder
½ tsp (2 mL) salt
¾ cup (175 mL) water (approx.)
Vegetable oil for shallow frying

GARNISH
2 cups (500 mL) green cabbage, finely shredded
6 oz (175 g) crumbled Cotija cheese
Mexican hot sauce
Lime wedges
1 The day before your fiesta, combine salt, chili powder, brown sugar, pepper and cumin, then rub all over beef shanks in a large roasting dish. Cover and refrigerate for at least 3 hours.

2 Preheat oven to 350°F (180°C).

3 Place roasting dish on a baking tray (to avoid possible oven spillage) and pour cola, tomato sauce and water over and around shanks. Cover roasting dish tightly with foil and braise shanks for 2½ hours, then uncover and cook for half an hour more, or until meat is tender. Let cool, then refrigerate, preferably overnight.

4 Skim solidified fat from the dish, then shred meat from the bones and place meat back in skimmed sauce, discarding bones and tendons.

5 Reheat beef at 350°F (180°C) for 30 minutes while prepping gorditas and garnish.

6 To make gorditas, mix dry ingredients together then add water and mix by hand until a sticky consistency is achieved. The trick is to mix—but not too much—for a tender end result. Wash dough from hands, dry well, then powder hands with flour and make flat rounds of dough the size of your palm.

7 Heat ½ inch (1 cm) oil in a large heavy-bottom pan (preferably cast iron) on medium-high heat. Fry gorditas, flipping once, until puffed and golden brown on both sides, about 3 to 4 minutes total. Drain on paper towel.

8 To serve, split open gordita buns and stuff with braised beef. Garnish with cabbage and crumbled cheese. Let guests add their own hot sauce and lime wedges.
SHARE