Beef Sauté with Mixed Wild Mushrooms
Winter 2012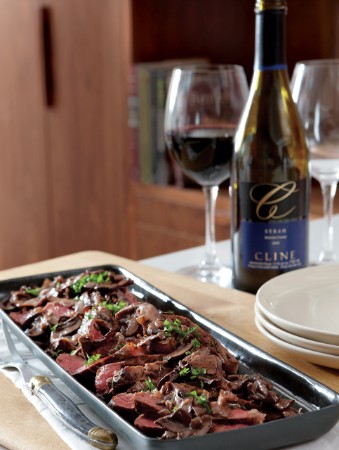 Beef Sauté with Mixed Wild Mushrooms
Winter 2012
BY: Lucy Waverman & James Chatto
Reduce the sauce until really thick to give that umami taste to the mushrooms. This is an easy main course for a dinner party because you can make the sauce ahead of time and the beef right before you need it.
BEEF
1 tbsp (15 mL) olive oil
1 tbsp (15 mL) soy sauce
1 tbsp (15 mL) Worcestershire sauce
2 tsp (10 mL) chopped fresh rosemary or ½ tsp (2 mL) dried
2 New York sirloin steaks about
10 oz (300 g) each, fat trimmed
Salt and freshly ground pepper

MUSHROOMS
½ cup (125 mL) dried porcini mushrooms
½ cup (125 mL) hot water
1 tbsp (15 mL) olive oil
3 tbsp (45 mL) butter
½ cup (125 mL) chopped shallots
2 tsp (10 mL) chopped garlic
8 oz (250 g) fresh mixed wild mushrooms, sliced
½ tsp (2 mL) chopped fresh thyme
½ cup (125 mL) Syrah
1 cup (250 mL) beef or chicken stock, homemade or store-bought low-salt1 tsp (5 mL) Dijon mustard
2 tbsp (30 mL) unsalted butter

TO FINISH
2 tbsp (30 mL) olive oil
2 tbsp (30 mL) chopped parsley
1 Combine olive oil, soy sauce, Worcestershire sauce and rosemary in a bowl. Brush marinade over steak, season with salt and pepper and set aside.

2 Soak porcini mushrooms in hot water until softened, about 20 minutes. Drain and reserve mushrooms and liquid separately.

3 Heat oil and butter in a large skillet over high heat. Add shallots and garlic and sauté for 1 minute or until beginning to soften. Add reserved porcini mushrooms, fresh mixed mushrooms and thyme and sauté for 2 to 3 minutes or until mushrooms are limp. Season with salt and pepper to taste. Pour in wine, bring to boil and cook for 1 to 2 minutes or until wine has almost disappeared. Add reserved porcini liquid, stock and Dijon and boil for 7 to 10 minutes or until reduced and thickened. Turn heat to low and stir in butter until melted.

4 Heat oil in a separate large skillet over high heat. Add steak and fry for 3 to 4 minutes per side or until desired degree of doneness. Remove from heat and let sit for 5 minutes. Discard any fat and add mushroom sauce to skillet. Reheat over medium heat. Adjust seasoning to taste. Add in any meat juices.


5 Cut steak into ½-inch (1-cm) slices and top with sauce. Sprinkle with parsley and serve immediately.
SHARE