Barbecued Planked Chicken Nachos
Summer 2017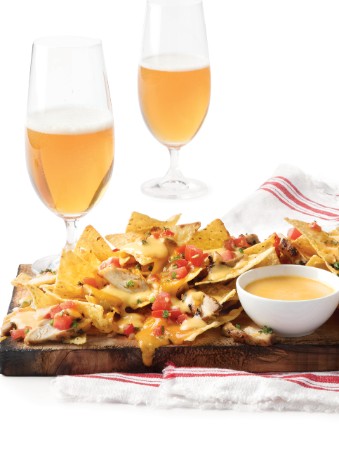 Barbecued Planked Chicken Nachos
Summer 2017
BY: Heather Trim
The hardest part of this recipe is removing the loaded-with-nachos plank to a serving platter. As with all barbecue recipes, times will vary slightly. Because you're using a plank, just keep an eye on it to avoid any flaming. Do buy an aged cheddar as it works really well with the beer. The better the cheese quality, the better the sauce. While Blue and Canadian are both lagers, feel free to substitute with another favourite Canadian beer.
1 large cedar plank, at least
12 x 8 inches (30 x 20 cm)

CHILI, BEER & LIME-MARINATED CHICKEN
¾ lb (375 g) skinless, boneless chicken thighs, about 6 small
1 lime
1 cup (250 mL) Canadian beer
2 tbsp (30 mL) vegetable oil
¼ cup (60 mL) finely chopped coriander
2 tbsp (30 mL) minced jalapeño pepper
2 cloves garlic, minced

CHEESE & BEER DRIZZLE
1 tbsp (15 mL) butter
4 tsp (20 mL) all-purpose flour
Pinch each of cayenne pepper, dry mustard powder and salt
½ cup (125 mL) Canadian beer
¼ cup (60 mL) milk
1½ cups (375 mL) coarsely grated extra-old
Canadian cheddar, preferably orange

NACHOS
1 cup (250 mL) seeded and diced plum tomatoes
2 to 3 cup (80 mL) coarsely chopped coriander
2 tbsp (30 mL) seeded and finely chopped jalapeño pepper
2 tbsp (30 mL) finely chopped sweet white onion
Kosher salt
1½ cups (375 mL) coarsely grated extra-old
Canadian cheddar, preferably orange
5 cups (1.25 L) large tortilla chips, about two-thirds of a 220-g bag
Hot sauce
1. Place plank in sink. Cover with water and soak at least 2 hours. For chicken, cut each thigh in half then place in a medium bowl. Finely grate lime peel over chicken, then squeeze out juice into same bowl. Add beer, oil, coriander, jalapeño and garlic to chicken in bowl. Stir well. Refrigerate about 2 hours, stirring occasionally.

2. Just before barbecuing or up to a day in advance prepare cheese drizzle. Melt butter in a small pot over medium heat. Sprinkle with flour, cayenne, mustard powder and salt. Whisk until blended. Gradually whisk in beer, then whisk in milk. Continue to whisk until mixture boils. Turn off heat and stir in cheese until melted. Set aside and keep warm if using right away. If preparing in advance, refrigerate until ready to use. Then reheat over low heat.

3. In a medium bowl, stir tomato with coriander, jalapeño and onion until mixed.

4. Preheat barbecue to high and grease grill.

5. Remove chicken from marinade. For simpler grilling, skewer chicken. Sprinkle with kosher salt. Grill about 5 minutes, turning occasionally, until cooked and nicely charred. Leave barbecue on. Remove chicken to a cutting board and slice into strips. Add to tomato mixture; stir. Add cheese and stir.

6. Preheat the plank for a couple of minutes (it may sizzle and begin to smoke a little). Place half the nachos on plank, leaving about 1½ inches (4 cm) as a border around the edges. Sprinkle with half the chicken mixture. Layer with remaining chips then chicken mixture. It will be quite high.

7. Cover and barbecue just until cheese is melted and bubbly (keep an eye on it), 5 to 8 minutes. Very carefully using 2 large spatulas, remove plank with the nachos from grill to a large flat platter (or the back of a baking sheet). Serve nachos on plank, drizzled with a little cheese sauce. Serve remaining cheese drizzle on the side along with hot sauce.
SHARE