Barbecued Duck and Thyme-Scented Fingerling Potato Mash
Automne 2006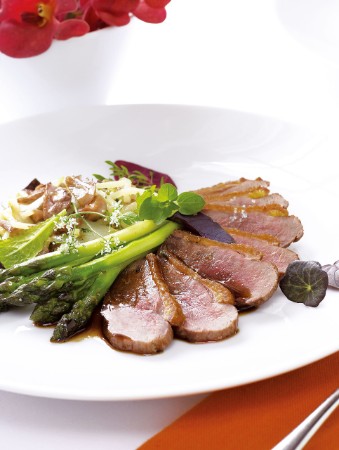 Barbecued Duck and Thyme-Scented Fingerling Potato Mash
Automne 2006
BY: Scott Kapitan, Chef, The Bloomfield Carriage House
If duck is not to your taste try substituting chicken, turkey or pork. The purpose of the brine is to impart additional flavour to the meat while acting as a tenderizer.
Duck is a fatty bird by nature so use caution when roasting, to avoid flare-ups. If you decide to use only selected cuts of the duck (such as the breast meat) you can cut the brine recipe in half. This is beneficial if you lack fridge space or have fewer guests to entertain.
Brine
32 cups (8 L) cold water
2/3 cup (150 mL) sugar
1¼ cups (300 mL) sea salt
1 tsp (5 mL) juniper berries
1 tsp (5 mL) black peppercorns
½ tsp (2 mL) dried chili flakes
6 pieces dried bay leaves
1 small piece fresh ginger
One 3 to 5 lb (1.5 to 2.2 kg) whole duck
Freshly ground pepper

Potatoes
1 lb (500 g) fingerling potatoes
¼ cup (50 mL) extra virgin olive oil
Sea salt and freshly ground pepper to taste
1 tbsp (15 mL) chopped fresh thyme

Sauce
1 tbsp (15 mL) honey
1 tsp (5 mL) chopped thyme
2 tbsp (25 mL) Pinot Noir
1. In a large pot, bring cold water, sugar, sea salt, juniper berries, black peppercorns, chili flakes, bay leaves and ginger to boil over high heat to make the brine. Stir occasionally until all the salt and sugar has dissolved. Remove from heat and allow to cool. Add duck and refrigerate for 24 hours.

2. Preheat barbecue or oven to 350ºF (180ºC).

3. Remove duck from brine, draining as much of the brine from the duck as possible. Pat duck dry. Season with fresh ground pepper.

4. Place duck on a rack over a roasting pan to catch juices and place on barbecue or in oven. Cook for 1 hour, rotating the duck every 15 minutes, or until duck is cooked through. Place on board and let sit for 10 minutes.

5. While the duck is cooking, cut potatoes into uniform sizes to ensure even cooking. Toss with olive oil, sea salt, freshly ground black pepper and thyme. Wrap potatoes in a double layer of tin foil, place on barbecue and cook for 30 minutes, turning once or until tender and easily pierced with a knife. Use the back of a fork to smash the potatoes, skin on, to make a rustic and flavourful mashed potato.

6. Combine honey and thyme in a sauce pot over medium heat and cook until caramelized. Add wine and reduce until 1 tbsp (15 mL) of liquid remains. Add duck juices from the carving board and any juices inside duck. Stir to combine and remove from the heat.

7. Place a small quantity of potatoes in the centre of each plate and top with sliced duck leg and breast. Pour sauce over duck and serve with your favourite vegetables. We recommend a few pieces of grilled endive.
SHARE