Balsamic Duck, Fig & Blue Cheese Salad
Autumn 2012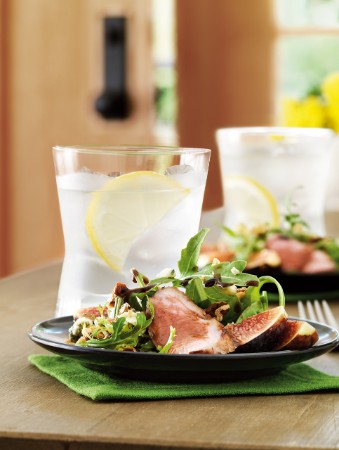 Balsamic Duck, Fig & Blue Cheese Salad
Autumn 2012
BY: Victoria Walsh
Never cooked duck before? Don't fret. Novices and pros alike can put this impressive-looking starter salad together with ease.
¾ lb (375 g) duck magret
1 cup (250 mL) walnut pieces
6 cups (1.5 L) loosely packed baby arugula or sorrel leaves or a mix of both or baby greens
3 fresh figs
3 oz (90 g) good-quality blue cheese, such as Bleu d'Elizabeth or Blue Haze
Generous pinches of fleur de sel (optional)
2 to 3 tbsp (30 to 45 mL) store-bought or Homemade Balsamic Glaze (recipe follows)

1 Preheat oven to 350°F (180°C).

2 Let duck stand at room temperature for 10 minutes. Heat a small frying pan over medium-high heat. Score duck skin, spacing ½ inch (1 cm) between each cut, making sure not to cut straight through skin and fat into meat. Add duck, skin-side down into pan. Cook until golden, 4 to 5 minutes. Turn and cook for 1 more minute. Transfer to a foillined baking sheet. Bake in centre of oven for 12 to 14 minutes or until meat thermometer inserted into thickest part of duck reads 150°F (65°C).

3 Meanwhile, spread walnuts on a small baking sheet. Toast alongside duck in oven for 4 to 5 minutes or until fragrant. Set out 12 small salad plates. Place about ½ cup (125 mL) greens on each plate. Slice each fig into 4 or 8 wedges and divide between plates. Crumble cheese and scatter walnuts over greens. When duck is done, remove to a cutting board. Loosely cover and let stand for 5 minutes. Thinly slice. Arrange 1 or 2 slices of duck beside greens. Lightly sprinkle duck slices with salt, if you wish. Drizzle duck and salad with balsamic glaze. Serve immediately.

HOMEMADE BALSAMIC GLAZE
¼ cup (60 mL) balsamic vinegar
1 tbsp (15 mL) honey
In a small saucepan, heat ¼ cup (60 mL) balsamic vinegar with 1 tbsp (15 mL) honey over medium heat. Gently simmer, whisking frequently for 5 to 7 minutes or until reduced by half. Reduce heat if needed.
Makes 12 appetizer servings
SHARE