Baklava Tarts with Walnuts & Pistachios
Été 2013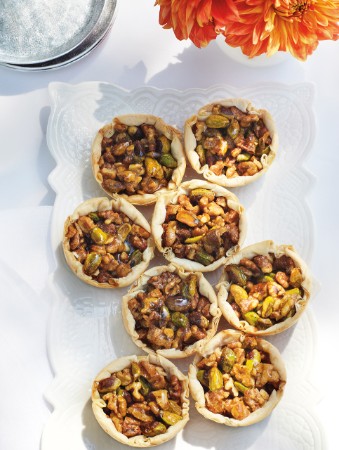 Baklava Tarts with Walnuts & Pistachios
Été 2013
BY: Marilyn Bentz-Crowley
These crisp-crusted tarts are suitably sweet, tangy with citrus, and have ooey-gooey goodness. Working with President's Choice-brand phyllo sheets is easiest in my experience; however, with all phyllo, do defrost in the refrigerator overnight.
FILLING
2 cups (500 mL) walnuts halves, very coarsely broken
3 tbsp (45 mL) butter, cut into several pieces
1 cup (250 mL) shelled whole pistachios (salted or unsalted)
⅓ cup (80 mL) granulated sugar
2 tsp (10 mL) finely grated orange zest, from about ½ orange
1 tsp (5 mL) ground cinnamon
¼ tsp (1 mL) salt
⅓ cup (80 mL) liquid honey
1 tbsp (15 mL) freshly squeezed lemon or lime juice

SHELLS
2 tbsp (30 mL) melted butter
2 tbsp (30 mL) vegetable oil
6 sheets phyllo dough, each sheet approx. 12 x 16 inches (30 x 40 cm)

SYRUP
⅓ cup (80 mL) water
⅓ cup (80 mL) granulated sugar
⅓ cup (80 mL) liquid honey
1 tbsp (15 mL) freshly squeezed lemon or lime juice
1 Preheat oven to 350°F (180°C).

2 Lightly toast walnuts in a single layer on a baking sheet for 8 to 10 minutes or just until fragrant. Turn into a mixing bowl; add butter and toss until melted. Stir in pistachios. In a small dish, stir sugar with zest, cinnamon and salt; add to nut mixture and toss to coat. Stir honey with lemon juice; drizzle over nut mixture. Stir well to combine; set aside.

3 For shells, stir melted butter with oil. Lay 1 sheet of phyllo on work surface; brush with some butter mixture. The mixture does not have to evenly coat whole sheet, however be sure to coat edges. Lay another sheet overtop; brush with some butter. Repeat, brushing top of last sheet. Then lift stack of sheets off work surface and flip over. Brush once more.

4 Cut phyllo stack into 4-inch (10-cm) squares. (Hint: Use a 4-inch/10-cm square of heavy paper as a template to help guide even cutting. Three equal cuts widthwise and two equal cuts lengthwise form 12 squares.) Coat muffin cups with nonstick spray and brush with any leftover butter and oil mixture.

5 Pleating squares as needed, gently push into muffin tin cups. Neatly fold down corners to inside of pastry. Stir nut mixture thoroughly. Dividing equally, place filling in pastry; scrape out any remaining sticky mixture in bowl and distribute among tarts. Bake in centre of oven for 15 minutes or until pastry is richly golden.

6 Meanwhile, to make syrup, combine water, sugar and honey in a large saucepan over high heat. When boiling, time for 3 minutes at which point large bubbles begin to subside; remove from heat. Put a few drops on a ceramic plate; syrup should flow thickly and be a light amber colour. If not ready, boil for another minute. Stir in lemon or lime juice. Warning: syrup is extremely hot!

7 When pastries come out of oven, leave in muffin cups. Dividing as needed, spoon hot syrup overtop hot pastries to fill but not overflow pastry sides. All syrup may not be needed. Let pastries cool, still in the cups, on a rack.

8 Use a slim knife to help remove tarts from cups. Cover and store at room temperature for up to a day or tightly wrap and freeze (defrost with wrapping in place until room temperature).
SHARE