Baked Peanut Butter And Banana French Toast
Hiver 2009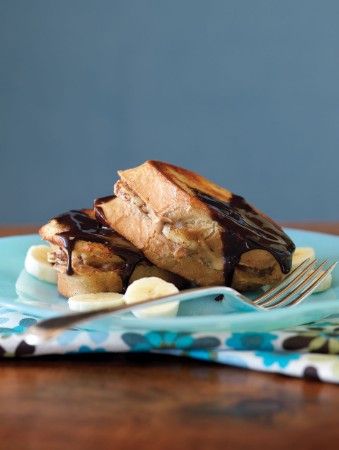 Baked Peanut Butter And Banana French Toast
Hiver 2009
BY: Heather Trim
Brunch for a crowd? Baked French toast is a whole lot easier than having 3 frying pans on the go.
1 wide supermarket-style baguette
2 large bananas
½ cup (125 mL) peanut butter, smooth or crunchy
1 cup (250 mL) milk
3 eggs
2 tbsp (25 mL) brown sugar
2 tsp (10 mL) vanilla
½ tsp (2 mL) each cinnamon and nutmeg
¼ tsp (1 mL) salt
1 to 2 tbsp (15 to 25 mL) butter, melted
Maple syrup or chocolate sauce
1. Slice baguette into ten 1½-inch (4-cm) pieces. Using a knife, slice through the bottom crust of each piece, nearly right to the other side, to form a pocket. Thinly slice 1 banana. Spread about 2 tsp (10 mL) peanut butter into each pocket, then stuff in a few banana slices. Squish bread back together again and don't worry if it tears a bit and you can see the filling.

2. Whisk milk with eggs, sugar, vanilla, spices and salt until blended. Place stuffed bread in milk mixture. Turn once. Refrigerate, covered, at least 2 hours or up to overnight, turning a couple of times.

3. When ready to bake, preheat oven to 450°F (230°C).

4. Brush baking sheet with half the butter. Place bread on top, spacing evenly. Brush tops with remaining butter. Bake in centre of preheated oven for 6 minutes. Turn and continue to bake until golden, 5 to 6 more minutes. Slice remaining banana. Serve scattered with bananas and drizzled with syrup or chocolate sauce.
SHARE