Baked Mushroom Parmigiana
Autumn 2020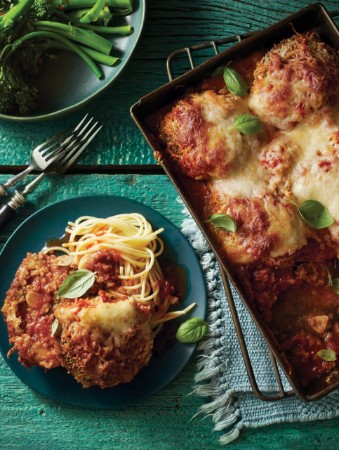 Baked Mushroom Parmigiana
Autumn 2020
BY: Victoria Walsh
Create a truly comforting casserole by breading and baking ample-sized caps then layering with loads of cheese and tomato sauce. This style of tomato sauce can be applied to other recipes like classic lasagna. Want a side of pasta? Simply double the sauce.
QUICK TOMATO SAUCE

2 cans (each 875 g) whole San Marzano tomatoes
½ cup (125 mL) extra virgin olive oil
10 garlic cloves, thinly sliced
½ tsp (2 mL) chili flakes
2 tsp (10 mL) granulated sugar
1 basil sprig including stem


BREADED MUSHROOMS

3 tbsp (45 mL) extra virgin olive oil
1½ cups (375 mL) panko bread crumbs
¾ cup to 1 cup (175 to 250 mL) all-purpose flour
4 eggs, beaten
12 medium-large or large portobello mushroom caps (stems removed)
1 cup (250 mL) finely grated Parmigiana-Reggiano
3 cups (750 mL) coarsely grated mozzarella, about 340-g ball
½ cup (125 mL) fresh basil leaves
1. Open canned tomatoes so you can quickly add and avoid burning the garlic while fiddling with an opener. Pour ½cup (125 mL) oil into a large wide pot. Set over medium heat. When shimmering or hot, add garlic and chili flakes. Stir frequently until lightly golden, 1 to 2 minutes. Carefully add tomatoes. Using a wooden spoon or potato masher, gently break up the tomatoes. Add sugar. Stir often over medium until sauce comes to a simmer. Reduce heat so sauce gently simmers but isn't splattering (likely low or medium-low). Add basil. Cook, stirring occasionally until thickened and flavourful, 35 to 40 minutes. Remove basil from sauce.
2. Preheat oven to 400°F (200°C).
3. Bread mushrooms. Pour 3 tbsp (45 mL) olive oil into a frying pan and set over medium-high heat. Add bread crumbs. Stir until toasted, 3 to 4 minutes. Cool completely. Place flour, eggs and toasted bread crumbs in separate pie plates or wide shallow dishes. Dust mushrooms with flour then dip in egg. Coat with bread crumbs. Set on a large rimmed baking sheet.
4. Bake in preheated oven until crispy-coated, about 12 minutes.
5. Spoon about 1 cup (250 mL) tomato sauce into a 9 x 13-inch (3-L) baking dish, spreading to evenly coat base of dish. Add 6 breaded and baked mushroom caps. Dollop with half of remaining sauce. Sprinkle with half of cheese. Repeat with a second layer, ending with cheese.
6. Reduce oven temperature to 375°F (190°C).
7. Bake in centre of preheated oven until mushrooms are very tender, 45 to 50 minutes. Scatter basil overtop. Serve a stack of 2 caps for each serving alongside pasta or a hearty green side such as steamed broccolini or roasted asparagus.
SHARE