Baked Apples with Warm Cider Caramel
Temps des Fêtes 2006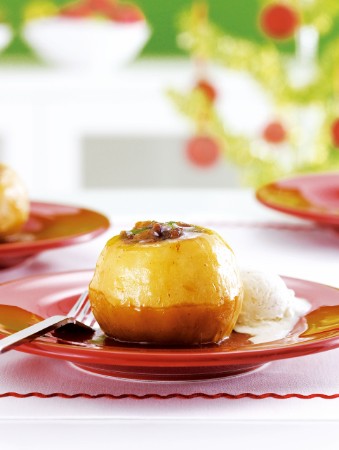 Baked Apples with Warm Cider Caramel
Temps des Fêtes 2006
BY: Emma Waverman and Eshun Mott
This is the classic baked apple all dressed up for the holidays. But a baked apple is a delicious and healthy (don't tell the kids) dessert any day, especially with a scoop of ice cream.
¼ cup (50 mL) pecans
4 large cooking apples (Northern Spy, Pink Lady, Ida Red)
¼ cup (50 mL) golden raisins, chopped
2 tbsp (25 mL) packed light brown sugar
2 tbsp (25 mL) unsalted butter, cut into small pieces
1 tbsp (15 mL) grated orange rind
1 tsp (5 mL) all-purpose flour
¼ tsp (1 mL) cinnamon
½ cup (125 mL) apple cider or juice


Cider Caramel
½ cup (125 mL) sugar
2 tbsp (25 mL) orange juice
¼ cup (50 mL) reserved reduced apple baking juices
1. Preheat oven to 350ºF (180ºC).

2. Place pecan pieces on a baking sheet and toast for 10 minutes or until fragrant. Remove from baking sheet and cool. Chop pecans and reserve.

3. Peel skin from the top third of each apple. Use a melon-baller or paring knife to core the apples, leaving about ½-inch (1-cm) of the bottoms intact to hold the filling.

4. Combine pecans, raisins, brown sugar, butter, orange rind, flour and cinnamon in a small bowl. Toss to combine well. Use a small spoon to stuff filling into apples, pressing in with fingers to compact filling. Set apples upright in a small baking dish or pie plate.

5. Pour apple cider over apples. Cover baking dish tightly with foil, and bake for 45 minutes or until apples can be easily pierced with the point of a knife.

6. Remove apples from oven and drain apple cider juices into small pot. Keep apples covered in a warm place while you make sauce.

7. Place pot over medium-high heat and simmer for 4 minutes or until juices are reduced to about ¼ cup (50 mL). Reserve.

8. For caramel:Heat sugar and orange juice in a small saucepan, over medium heat, and stir until sugar is moistened. Allow mixture to come to a boil and simmer for about 5 minutes or until sugar has turned golden. Standing back slightly, pour in the reduced apple juices (the caramel will bubble and spit vigorously). When the bubbling has subsided somewhat, stir to incorporate the juice and the caramel. Don't be tempted to stick your finger into the sauce to taste it until it has cooled slightly, as molten sugar is painfully hot. Pour sauce over and around apples.
SHARE