Bacon Mushroom Bread Stuffing
Temps des Fêtes 2012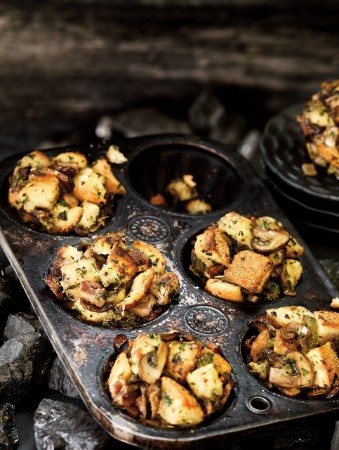 Bacon Mushroom Bread Stuffing
Temps des Fêtes 2012
BY: Jennifer MacKenzie
Sometimes you want bread stuffing but you aren't serving anything to stuff. These individual portions give all of that stuffing satisfaction on the side with the bonus of a golden, crispy crust and moist interior. They're perfect to serve with turkey, pork roast or chops, chicken, Cornish hen or even a steak. The bacon, brandy and cream are an indulgence, sure, but absolutely worth it for the fabulous flavour and texture.
4 slices smoked side bacon
2 stalks celery, sliced
1 onion, chopped
Salt and freshly ground pepper
8 oz (250 g) sliced mixed mushrooms
1 tsp (5 mL) dried rubbed sage
½ tsp (2 mL) dried rosemary, crumbled
¼ cup (60 mL) brandy or dry white wine
5 cups (1.25 L) cubed day-old white bread, about 8 oz (250 g)
¼ cup (60 mL) chopped fresh parsley
½ cup (125 mL) whipping cream (approx.)
1 Butter 8 cups of a muffin pan and line bottoms with a circle of parchment paper.

2 Cook bacon in a skillet over medium heat, turning once, until crisp. Transfer bacon to a plate lined with paper towel and set aside.

3 Add celery, onion, and ¼ tsp (1 mL) each of salt and pepper; and sauté for 3 minutes or until starting to soften. Add mushrooms, sage and rosemary and sauté for 7 minutes or until mushrooms start to brown. Pour in brandy and scrape up brown bits.

4 Transfer vegetables to a large bowl and mix with bread and parsley. Crumble bacon and add to bowl. Toss to combine. Add enough cream to moisten stuffing (when you squeeze it, a handful should just hold together). Season with salt and pepper to taste. Divide among prepared muffin cups, packing lightly. (Bake immediately or cover and set aside in the refrigerator for up to 8 hours.)

5 Preheat oven to 400°F (200°C).

6 Bake for about 20 minutes or until tops are golden and crisp and stuffing is hot in the centre. Let cool for 5 minutes, then remove from pan and peel off parchment paper.
SHARE