Bacon, Smoked Cheddar and Tomato Crostini with Asparagus
Printemps 2012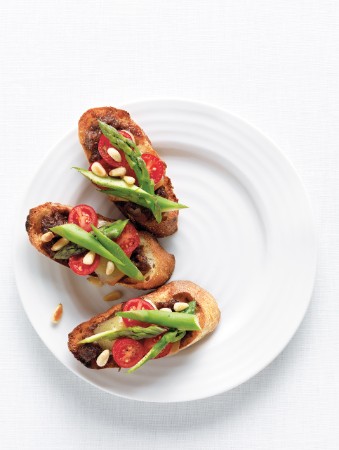 Bacon, Smoked Cheddar and Tomato Crostini with Asparagus
Printemps 2012
BY: Ruth Gangbar
The rich smokiness of Skillet Original Bacon Spread invites experimenting with different toppings with bold flavours. Try substituting the smoked cheddar, tomato and asparagus for smokey Blue Haze, red pepper and fresh pear slivers. Owner/Chef Josh Henderson of Skillet, the Seattle food truck and diner, suggests bacon spread can be used in many ways, from burgers to stuffed baked potatoes and soups. Purchase or find local retailers carrying the spread at skilletstreetfood.com.
Half baguette (or about 12 slices)
½ cup (125 mL) Skillet Original Bacon Spread
5 oz (150 g) smoked or extra old cheddar, thinly sliced
8 to 10 cherry tomatoes, sliced
6 asparagus spears, blanched, halved lengthwise if thick, and cut into 2-inch (5-cm) pieces
2 tbsp (30 mL) toasted pine nuts
Freshly ground black pepper
1 Slice the baguette diagonally into thin slices, and place on a baking sheet. Broil for 2 minutes per side, or until lightly browned.

2 Preheat oven to 350°F (180°C).

3 Spread about 1 tbsp (15 mL) bacon spread evenly over each crostini.

4 Top each with cheese, a few cherry tomato slices and asparagus pieces. Sprinkle with pine nuts and freshly ground pepper.

5 Bake about 3 to 4 minutes, or until the cheddar melts. Serve immediately.
SHARE