Backyard Punch
Summer 2020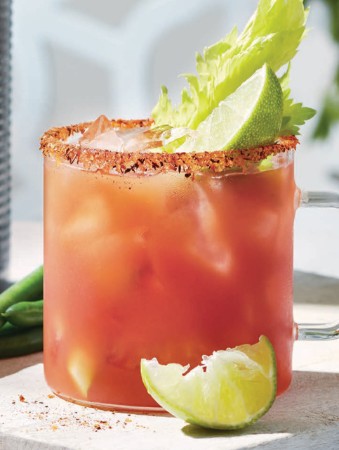 Backyard Punch
Summer 2020
This beer Caesar is zesty, savoury and a cinch to mix, even in the backyard. Pour it into your favourite enamel camping mugs from an insulated drink dispenser to maintain the refreshing chill. This may be the excuse you need to purchase a 14 L Bubba Keg Cooler.


2 bottles (each 946 mL) Walter Classic Craft Caesar Mix, available at grocery stores nationwide
1½ cups (375 mL) vodka (we used Absolut)
2 cans Belgian-style witbier (we used Blanche de Chambly)
3 cups (750 mL) ice cubes, plus 1 cup (250 mL) for serving, about 1 lb (455 g) total
Lime wedges
2 tbsp (30 mL) Walter Craft Caesar Rimmer
Celery, Green Beans and Lime or Lemon for garnish, optional


1 Pour Caesar mix and vodka into an insulated drink dispenser and stir. Just before serving, gently pour in beer and add 3 cups (750 mL) ice.

2 Moisten mugs with lime and dip into Caesar rim. Pour over a handful of ice and garnish, if desired.


SHARE