Avocado & Cheese Tart
Début de l'été 2011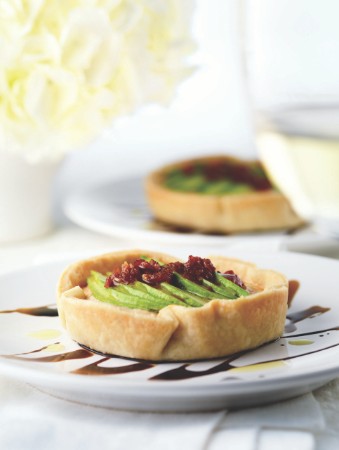 Avocado & Cheese Tart
Début de l'été 2011
BY: Lucy Waverman
This spectacular tart is inspired by one I had along the west coast of Tasmania at a fabulous restaurant that has now disappeared. This is a good flaky pastry for basic uses.
1½ cups (375 mL) all-purpose flour
½ tsp (2 mL) salt
⅓ cup (75 mL) unsalted butter, cubed
2 tbsp (25 mL) organic shortening, cut in pieces
2 tsp (10 mL) white vinegar or lemon juice
2 tbsp (25 mL) cold water

FILLING
1 cup (250 mL) soft goat cheese
3 tbsp (45 mL) whipping cream
¼ cup (50 mL) grated Parmesan
⅓ cup (75 mL) Tomato-Chili Ketchup (recipe follows)
Salt and freshly ground pepper
1 avocado, peeled and sliced
Apple Balsamic Dressing (recipe follows)
Extra virgin olive oil for drizzling


1. Place flour and salt in a bowl. Cut in butter and shortening until it is the texture of bread crumbs. Combine vinegar and water and sprinkle over flour mixture. Gently combine with hand and knead together into a smooth ball. Wrap in plastic wrap and refrigerate for 30 minutes.

2. Preheat oven to 400°F (200°C).

3. Roll out dough into six 5-inch (12-cm) circles. Place circles in 4-inch (10-cm) tart shells or large muffin tins. Freeze for 30 minutes or until firm. Line tart shells with foil and pie weights or dried beans and bake for 15 minutes or until golden around the edges. Remove foil and weights, prick base with a fork and bake 5 minutes longer or until pastry is fully cooked.

4 Reduce oven to 350°F (180°C).

5. Combine goat cheese, whipping cream, Parmesan and Tomato-Chili Ketchup in a small bowl. Season with salt and pepper. Fill each tart shell with goat cheese mixture. Top each with a few slices of avocado and a tiny spoonful of Tomato-Chili Ketchup. Warm through in oven for 8 minutes. Make a swirl on a plate with Apple and Balsamic Dressing, and place warm tart on top. Finish with a drizzle of olive oil.



APPLE-BALSAMIC DRESSING

This keeps in the refrigerator for a month. Use it as a drizzle over servings of grilled fish, poultry or meat.

1 cup (250 mL) apple juice
1 cup (250 mL) balsamic vinegar


1. Place juice and vinegar in a pot and bring to a boil. Lower heat and cook for 15 minutes or until slightly thickened—it will thicken considerably as it cools. You can whisk in a little warm water if becomes too thick.

TOMATO-CHILI KETCHUP

Leftovers make a great condiment for curries, cold meats and sandwiches. It should have a bit of a bite to it, but the amount of Asian chili sauce needed will depend on the heat of your chili. Keeps for a month refrigerated.

2 cups (500 mL) canned tomatoes chopped
1 tsp (5 mL) seeded and chopped red chili
1 tsp (5 mL) chopped garlic
2 tbsp (25 mL) ginger, chopped
2 tbsp (25 mL) fish sauce
1 cup (250 mL) brown sugar
¾ cup (175 mL) red wine vinegar
½ tsp (2 mL) Asian chili sauce, optional
Salt to taste
1. Combine tomatoes, chili, garlic, ginger, fish sauce, brown sugar and red wine vinegar in a saucepan over medium-high heat and bring to boil, stirring occasionally. Turn heat to a simmer and simmer gently for 40 to 45 minutes or until dark red and thick.



2. Add chili sauce and cook 2 minutes longer to blend flavours. Season with salt to taste.
Makes about 1½ cups (375 mL)
SHARE