Asparagus Strudel
Printemps 2006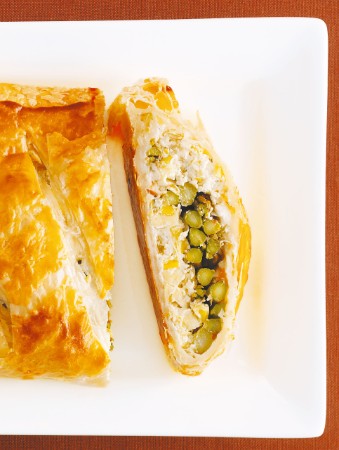 Asparagus Strudel
Printemps 2006
BY: Lucy Waverman
If only thick stalks of asparagus are available, peel the stalks. Blanch in boiling water for 2 minutes, drain and run under cold water until cold. If you have thin stalks, do not peel them, and blanch for only 1 minute.
2 tbsp (25 mL) olive oil
1 tsp (5 mL) chopped garlic
2 cups (500 mL) thinly sliced leeks, white and light green part only
1 tbsp (15 mL) chopped mint
1 tsp (5 mL) grated orange rind
Salt and freshly ground pepper
1¼ cup (300 mL) goat cheese
½ lb (250 g) frozen puff pastry, defrosted
1 lb (500 g) asparagus, tough ends removed
1 egg, beaten
1. Preheat oven to 400ºF (200ºC).

2. Heat olive oil in skillet on medium-high heat. Add garlic and leeks and sauté until crisp-tender, about 2 minutes. Stir in mint and orange rind, season with salt and pepper and cool. Combine leek mixture with goat cheese.

3. Lay pastry on a floured surface and roll out to a 10 x 14-inch (25 x 35-cm) rectangle. Place on a parchment-lined baking sheet. Divide cheese mixture in half. Pile half of mixture along upper third of pastry lengthwise, leaving a 1-inch wide (2.5-cm) border on short sides and top. Lay asparagus spears evenly over top of filling. Cover with remaining cheese mixture. Brush all inside edges of pastry with beaten egg. Fold pastry over filling and tuck ends under.

4. Slash top of strudel on the diagonal every 2-inches (5-cm). Brush with egg.

5. Bake for 20 to 25 minutes or until golden brown.
SHARE