Asparagus Risotto with Pancetta and Truffle Oil
Début de l'été 2008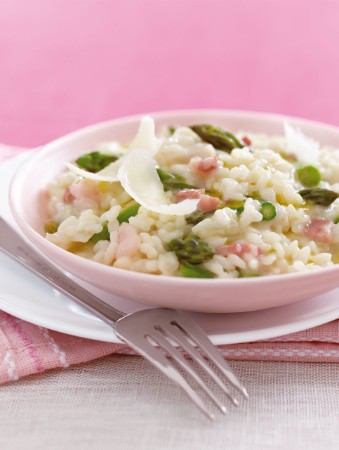 Asparagus Risotto with Pancetta and Truffle Oil
Début de l'été 2008
BY: Lucy Waverman
A beautiful risotto studded with green asparagus and flecked with pancetta. This tastes even better with the truffle oil giving it that final flourish.
1 lb (500 g) thin asparagus stalks, woody ends removed
2 tbsp (25 mL) olive oil
4 slices pancetta, diced
1 cup (250 mL) chopped onion
2 cloves garlic, chopped
1½ cups (375 mL) arborio rice
5½ cups (1.375 L) hot chicken stock
2 tbsp (25 mL) butter
½ cup (125 mL) Parmesan cheese
1 tsp (5 mL) truffle oil
Salt and freshly ground pepper
1. Dice asparagus stalks into 2-inch (5-cm) lengths, reserving tips.

2. Heat olive oil in a pot over medium heat. Add pancetta and fry for 2 minutes or until fat has rendered. Add onion, garlic and asparagus stalks and sauté for 3 minutes or until onion is softened. Stir in rice and cook until rice is coated with onion and oil, about 1 minute.

3. Pour in about 2 cups (500 mL) stock and cook, stirring frequently until most of the liquid is absorbed. Add another 2 cups (500 mL) stock and stir again and cook until liquid is absorbed. Add last cup (250 mL) of stock and asparagus tips. Cook until stock is absorbed. The rice should be al dente. If not, add up to ½ cup (125 mL) more stock. This whole process should take between 20 and 25 minutes.

4. Beat in butter, Parmesan and truffle oil and season with salt and pepper.
SHARE