Asparagus, Asiago and Bacon Tart
Début de l'été 2004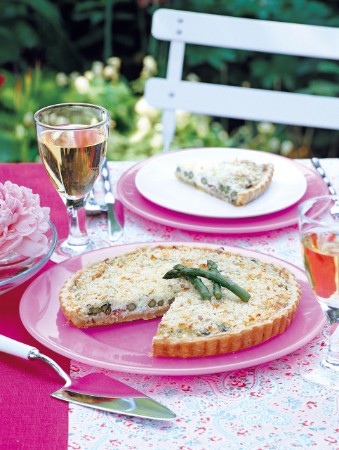 Asparagus, Asiago and Bacon Tart
Début de l'été 2004
BY: Marilyn Bentz-Crowley and Joan Mackie
Suspended in a smooth, cheese-flavoured custard, the asparagus and bacon are both crunchy and tasty additions to this lunch-time tart. You can make the pastry shell even a week ahead and store in a tightly closed plastic bag-uncooked-in the freezer. Bake blind straight from the freezer just before filling.
3 dozen asparagus tips, each about 2 inches (5-cm) long
6 oz (175 g) bacon (about 8 slices)
1 egg
1 egg yolk
3/4 cup (175 mL) crème fraîche or sour cream
4 oz (125 g) grated Asiago cheese
1 tbsp (15 mL) chopped mixed fresh herbs such as thyme, oregano, parsley and rosemary
1/2 tsp (2 mL) salt
1/4 tsp (1 mL) pepper
1 baked 8 to 9-inch (20 to 23-cm) tart shell in pan with
removable sides (recipe follows)
1/2 cup (125 mL) fresh fluffy white
bread crumbs (Breadcrumb Tip follows)
2 tbsp (25 mL) melted butter
1. Preheat oven to 375°F (190°C).

2. Drop asparagus tips into boiling water; boil for 2 minutes. Transfer to a colander or strainer; run under very cold water. Drain on paper towel; set aside. Cut bacon crosswise into 1/2-inch-(1-cm) wide strips; fry until crisp. Drain on paper towels; set aside. (Both can be done a day ahead and stored, covered, in the refrigerator.)

3. Lightly beat egg and egg yolk. Stir in crème fraîche, Asiago cheese, chopped herbs, salt and pepper.

4. Scatter asparagus tips and bacon evenly over bottom of baked shell; pour in egg mixture. Sprinkle top with breadcrumbs; drizzle with melted butter. Bake for 35 minutes or until filling is firm. Set on a rack for 5 minutes; then remove sides from pan and transfer to serving dish.

Tip:
To make breadcrumbs from fresh bread, simply whirl slices of French, Italian or other flavourful bread in the food processor until large fluffy crumbs form.

Pastry
1 1/4 cups (300 mL) flour
1/4 tsp (1 mL) salt
6 tbsp (90 mL) chilled butter
2 tbsp (25 mL) chilled lard or vegetable shortening
1/4 cup (50 mL) cold water
1 tsp (5 mL) lemon juice
1.  Sift flour and salt together. Using a pastry blender or 2 knives, cut butter and lard into flour until grainy. Combine water and lemon juice; toss into flour mixture a little at a time, stirring constantly. Press firmly into a ball, flatten into a disk, wrap and chill for 30 minutes.

2.   Roll out pastry; line an 8 or 9-inch (20 or 23-cm) tart pan with removable sides. Put in freezer for 15 minutes.

3.  Preheat 425°F (220°C). Line shell with parchment paper; weigh down with pastry weights or dried beans  Bake for 10 minutes, then remove paper and weights. Reduce heat to 375°F (190°C); bake for further 10 minutes or until pastry is golden. Set on rack to cool before filling.
SHARE