Asian Chickpea Mix
Printemps 2007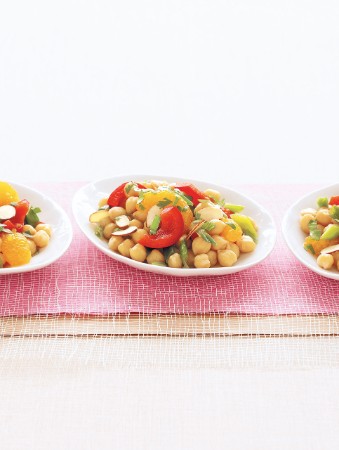 Asian Chickpea Mix
Printemps 2007
BY: Emily Richards
The fresh taste of mandarin and the crunch of almonds add extra zing to this side dish. Warm or cold, this mix is a good match for pan-fried fish or served alongside grilled tuna. If there are leftovers pack them up for lunch and toss in some smoked salmon or canned tuna for added protein.
1½ cups (375 mL) chickpeas
2 stalks lemon grass, cut in 3 pieces each
1 tbsp (15 mL) sesame oil
1 bunch green onions, chopped
2 cloves garlic, minced
1 tsp (5 mL) minced fresh ginger
1 large red or green pepper, chopped
One 9 oz can mandarin oranges, drained
½ cup (125 mL) sliced almonds, toasted
2 tbsp (25 mL) soy sauce
2 tbsp (25 mL) rice vinegar
2 tbsp (25 mL) chopped fresh coriander (optional)
1. Sort through beans and remove stones. Rinse in fine mesh sieve.

2. Bring 8 cups (2 L) water and chickpeas to a full boil for 2 minutes. Remove from heat and let stand for 1 hour. Drain and rinse.

3. Bring 8 cups (2 L) fresh water, soaked chickpeas and lemon grass to boil in large pot. Reduce heat; partially cover and simmer for about 30 to 45 minutes or until chickpeas are tender. Drain and rinse chickpeas; discard lemon grass.

4. Heat oil in large nonstick skillet over medium heat and cook onions, garlic and ginger for 3 minutes. Add chickpeas and red pepper and cook, stirring, for about 5 minutes or until pepper is beginning to turn golden.

5. Scrape into large bowl and add mandarins and almonds and stir to combine.

6. Whisk together soy sauce and rice vinegar and then drizzle over the chickpea mixture and toss to combine. Sprinkle with coriander if desired.

Other Bean Options: White or red kidney beans.
Canned Bean Option: Use two 19 oz cans chickpeas, drained and rinsed.
SHARE