Asian Chicken Sandwich
Early Summer 2003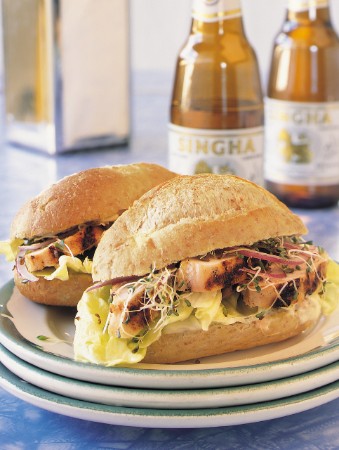 Asian Chicken Sandwich
Early Summer 2003
BY: Lucy Waverman
Chicken Sandwiches can be boring but this one is unusual and flavour-packed. If you like it really hot, increase the amount of Thai chilli paste you use. Substitute Indian curry paste, if desired.
2 tsp (10 mL) Thai green curry paste
2 tsp (10 mL) grated ginger
1 tbsp (15 mL) vegetable oil
Salt and freshly ground pepper
4 boneless, skinless chicken breasts

Wasabi Mayonnaise
1 tbsp (15 mL) wasabi
1 tbsp (15 mL) water
1/2 cup (125 mL) mayonnaise
1/4 cup (50 mL) chopped pickled ginger
1 tbsp (15 mL) soy sauce
4 multi-grain rolls
1/2 small red onion, thinly sliced
1 cup (250 mL) sprouts
8 leaves Boston lettuce
1 Combine curry paste, ginger and vegetable oil. Season with salt and pepper. Brush on chicken breasts. Preheat grill to high. Grill breasts about 4 minutes per side or until juices are clear. Cool.
2 Combine wasabi and water together to make a paste. Whisk into mayonnaise. Stir in ginger and soy sauce.
3 Cut rolls in half. Brush wasabi mayonnaise on each half. Slice chicken breasts into 1/4-inch (5-mm) slices and place over mayonnaise. Add red onion, sprouts and lettuce leaves. Sandwich with top half of roll.
SHARE