Asian Braised Pork Belly
Autumn 2008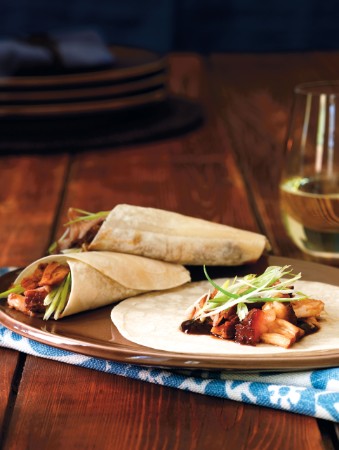 Asian Braised Pork Belly
Autumn 2008
BY: Lucy Waverman
Pork belly is essentially uncured bacon. Fatty and succulent it slow cooks to perfection. We weight (see step 6) the meat for about 15 minutes after it comes out of the oven just to get rid of a little excess fat but it is not necessary. Serve this Asian braised delicacy either shredded or "pulled" with mandarin pancakes, hoisin sauce, and green onions or in chunks over rice. A good side dish is stir-fried spinach with ginger. Mandarin or duck pancakes are available at larger Asian stores, otherwise use tortillas.
1 piece, 2 to 3 lb (1 to 1.5 kg), boneless belly pork

Marinade
½ cup (125 mL) light soy sauce
2 tbsp (25 mL) balsamic vinegar
¼ cup (50 mL) mirin
1 tbsp (15 mL) sugar
1 cup (250 mL) water
4 slices ginger
2 whole cloves garlic, peeled
3 star anise
6 cardamom pods

Glaze
1 tbsp (15 mL) brown sugar
½ tsp (2 mL) kosher salt

Pancakes
12 mandarin or duck pancakes, frozen
¼ cup (50 mL) hoisin sauce
1 tbsp (15 mL) rice vinegar
1 tbsp (15 mL) sesame oil
1. Preheat oven to 250ºF (120ºC).

2. Score fat of pork belly with a sharp knife in 1-inch (2.5-cm) intervals. Place pork belly in a cold skillet, fat-side down, and turn heat to high. Sear belly for 5 minutes or until browned, pouring off fat as needed. Flip over and sear for 1 to 2 minutes or until second side is browned. Remove and place, fat-side up, in an ovenproof casserole.

3. Combine soy sauce, balsamic vinegar, mirin, sugar, water, ginger, garlic, star anise and cardamom pods in a small pot and bring to boil. Pour over pork belly. Liquid should come halfway up pork. Cover tightly and place in the oven. Roast for 4 hours, checking occasionally and basting with liquid.

4. When pork is very tender and practically falling apart, turn oven up to 500ºF (260ºC).

5. Sprinkle top with brown sugar and kosher salt and bake, uncovered, for 15 to 20 minutes (watching carefully to avoid burning the top) or until top is golden brown and skin is crisp.

6. Remove from oven, place pork on a baking sheet, top with a clean skillet and weight with cans for about 15 minutes to press out a little fat. Remove weights and leave until cool. Return pork to marinade in casserole and chill until fat has congealed.

7. Remove fat from marinade. Cut pork into pieces or slices or shred it and reheat in cooking marinade before serving. Pieces can take up to 10 minutes to reheat; slices take only minutes. Serve with rice or duck pancakes.
SHARE