Asian Barbecued Pork with Sweet Tart Sauce
Été 2008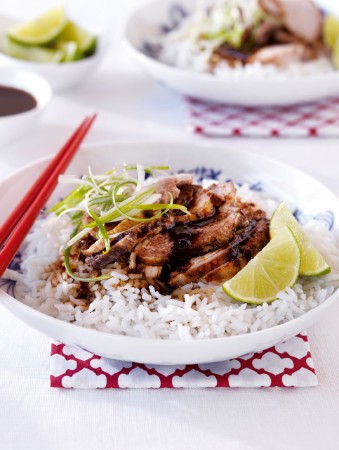 Asian Barbecued Pork with Sweet Tart Sauce
Été 2008
BY: Lucy Waverman
This spicy, honey-sweet and citrus-tart pork roast is best served with rice. It can be served either warm or cold. The meat is so tender that you can make superb pulled pork sandwiches by pulling it apart with a fork.
2½ to 3 lbs (1.25 to 1.5 kg) rib end pork roast off the bone

MARINADE

3 tbsp (45 mL) soy sauce
¼ cup (50 mL) hoisin sauce
2 tbsp (25 mL) sugar
1 tsp (5 mL) 5-spice powder
1 tbsp (15 mL) sambal oelek
2 tbsp (25 mL) vegetable oil
Salt and freshly ground pepper

1 tbsp (15 mL) balsamic vinegar

Garnish

Lime wedges
1. Place pork in a large baking dish and set aside. Combine soy sauce, hoisin sauce, sugar, 5-spice powder, sambal oelek, vegetable oil and salt and pepper in a medium bowl and pour over pork making sure it is well coated. Marinate pork overnight or for at least 6 hours, refrigerated.

2. Preheat oven to 300°F (150°C).

3. Place pork in a covered baking dish along with marinade and ½ cup (125 mL) water. Cover and bake for 3 to 3½ hours, turning every hour and basting until pork is fork-tender. Remove from oven and let pork cool in juices. If you can refrigerate overnight it is much easier to remove the fat.

4. Remove pork from juices and skim fat from sauce. Add balsamic vinegar to baking dish and bring sauce to a boil over high heat. Boil for 7 to 10 minutes or until juices have reduced and thickened slightly.

5. Thinly slice pork, coat with sauce, pour over rice and scatter with green onions. Serve with lime wedges.
SHARE