Applesauce Fruitcakes
Holiday 2003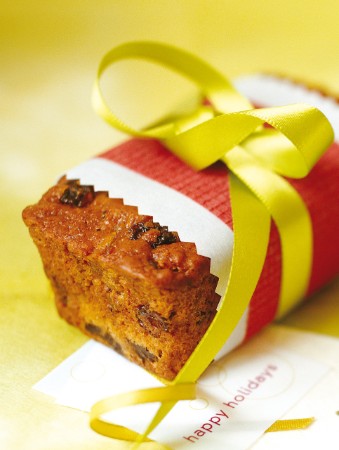 Applesauce Fruitcakes
Holiday 2003
BY: Dana Speers
These luscious cakes are filled with an assortment of dried fruit rather than the sugary candied variety. It is essential to let the fruitcakes rest for 5 days before serving so the flavours have a chance to meld. Wrap the cakes tightly in plastic and foil so they remain moist. You can purchase individual loaf pans at kitchen supply stores.
1 1/2 cups (375 mL) unsweetened applesauce
1/2 cup (125 mL) unsalted butter, cut into pieces
1/2 cup (125 mL) sugar
1/4 cup (50 mL) molasses
3 tbsp (45 mL) honey
1 1/3 cups (325 mL) golden raisins
1 1/3 cups (325 mL) dark raisins
1/2 cup (125 mL) dried currants
1 cup (250 mL) dried cherries
1/2 cup (125 mL) dried cranberries
1 1/4 cups (300 mL) dried apricots, chopped
1 cup (250 mL) walnut halves, roughly chopped
1 cup (250 mL) pecan halves, roughly chopped
2 1/4 cups (550 mL) all-purpose flour
2 tsp (10 mL) baking soda
1 tsp (5 mL) cinnamon
1/2 tsp (2 mL) nutmeg
1/2 tsp (2 mL) allspice
1/4 tsp (1 mL) mace
1/2 tsp (2 mL) salt
3/4 cup (175 mL) brandy


Garnish
1 cup (250 mL) seedless raspberry jam
1/4 cup (50 mL) water
Gold leaf
1. Preheat oven to 275°F (140°C). Butter and flour twelve 4 x 2-inch (10 x 5-cm) miniature loaf pans and place on a baking sheet.
2. Heat applesauce in a medium pot over medium heat until boiling. Add butter and stir until melted. Add sugar, molasses and honey and cook, stirring, for about 1 minute or until sugar dissolves. Pour mixture into a large bowl and let cool. Add raisins, currants, cherries, cranberries, apricots, walnuts and pecans. Stir to combine.
3. Sift flour, baking soda, cinnamon, nutmeg, allspice, mace and salt into a large bowl. Fold dry ingredients into applesauce mixture until combined. Divide batter evenly among prepared loaf pans. With the back of a wet tablespoon, press batter into pans and smooth the tops.
4. Place baking sheet in middle of oven and bake fruitcakes 55 to 60 minutes or until a skewer inserted in centre comes out clean. Turn cakes out onto a wire rack and let cool.
5. With a pastry brush, coat fruitcakes liberally with brandy. Wrap fruitcakes in a layer of plastic wrap and a layer of foil and let rest at room temperature for 5 to 8 days.
6. Put raspberry jam and water in a small pot over medium heat and bring to a boil. Turn the heat down to low and gently simmer for 5 minutes. Pass mixture through a strainer. Unwrap cakes and brush the hot glaze on top. Once the glaze has cooled, decorate the cakes with bits of gold leaf.
Serves 12 (1 cake per person)
SHARE