Apple Crisp Ice Cream
Automne 2007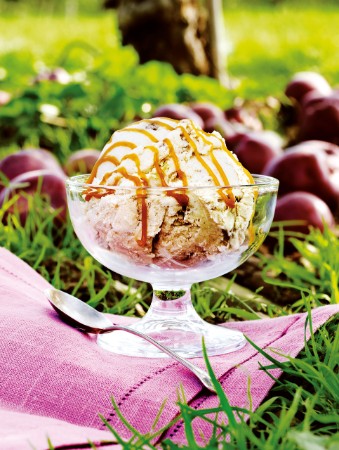 Apple Crisp Ice Cream
Automne 2007
BY: Anna Olson (courtesy of Sugar, Food Network)
If you love a scoop of vanilla ice cream on your apple crisp, then you'll love this recipe - it's the best of both worlds. If you don't feel like making the ice cream component of this recipe, the apple crisp itself is lovely.
Apple Crisp
2/3 cup (150 mL) regular oats
½ cup (125 mL) light brown sugar, packed
1/3 cup (75 mL) all-purpose flour
½ tsp (2 mL) ground cinnamon
Dash fine salt
1/3 cup (75 mL) unsalted butter, melted
2 cups (500 mL) peeled and diced apples (any variety will do)
¼ cup (50 mL) sugar


Ice Cream
1¼ cups (300 mL) 2% milk
4 large egg yolks
5 tbsp (75 mL) sugar
1 tsp (5 mL) cornstarch
1 tsp (5 mL) pure vanilla extract
½ tsp (2 mL) ground cinnamon
1¼ cups (300 mL) whipping cream
1. To make apple crisp, preheat oven to 375°F (190°C).

2. Toss oats, brown sugar, flour, cinnamon and salt to combine. Add melted butter and stir to blend. Toss apples and sugar and pour into an 8-inch (20-cm) square or round baking pan. Crumble crisp topping over fruit and bake for 20 minutes, until apples are tender. Cool, then chill completely.

3. To make ice cream, heat milk to just below a simmer. Whisk egg yolks, sugar and cornstarch in a separate small bowl. Slowly add hot milk to yolks, whisking constantly, until all milk is added. Return mixture to pot and stir with a wooden spoon over medium-low heat until custard has thickened and coats the back of the spoon, about 4 minutes. Remove from heat, strain, then whisk in vanilla and cinnamon. Whisk in whipping cream and chill completely.

4. Freeze mixture in an ice cream maker, according to manufacturer's instructions. Once ice cream has structure (usually about 7 minutes of churning), spoon chilled crisp into ice cream maker as it is churning. Scrape ice cream into a non-reactive container and freeze until firm.
SHARE