Apple-Cider-Glazed Roasted Chicken, Brussels Sprouts & Garlic
Temps des Fêtes 2013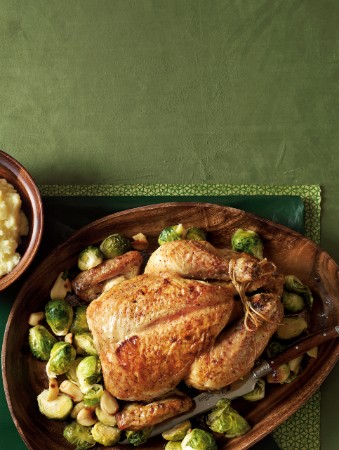 Apple-Cider-Glazed Roasted Chicken, Brussels Sprouts & Garlic
Temps des Fêtes 2013
BY: Victoria Walsh
Apple-cider-laced Brussels sprouts are roasted alongside a whole chicken in this easy-to-prepare one-pan supper. And the remaining apple cider juices make a delicious glaze to flavour the chicken too.
1 lb (500 g) Brussels sprouts
1 head of garlic, about 10 cloves
1 whole chicken, about 3 lbs (1.5 kg)
1 tbsp (15 mL) butter
½ tsp (2 mL) salt and pepper
¾ cup (175 mL) apple cider
¼ cup (60 mL) apple cider vinegar
2 tsp (10 mL) Dijon mustard
Generous pinches of salt and pepper
1 Preheat oven to 375°F (190°C).

2 Trim ends from Brussels sprouts and, if needed, remove outer leaves. If large, cut in half. Cut off root end of head of garlic. Gently smash cloves releasing them from their skins but keeping them whole. Place chicken on a rack in a roasting pan. Pat dry with paper towels. Rub butter all over chicken and under skin as best you can. Sprinkle all over with salt and pepper and in cavity. Pile garlic in one end of roasting pan.

3 Roast chicken in oven for 30 minutes. Meanwhile, whisk apple cider, vinegar and mustard together in a measuring cup. Add Brussels sprouts to bottom of roasting pan. Sprinkle with salt and pepper. Pour apple cider mixture into pan. Continue to roast, carefully shaking pan occasionally to coat Brussels sprouts. Roast for 30 more minutes.

4 Remove chicken and rack to a carving board. Using a slotted spoon, remove sprouts and garlic to a dish. Brush pan juices over chicken. If chicken is cooked through, leg moves easily from joint and juices run clear; loosely cover with foil and let rest for 15 minutes. If chicken is not done, place back in pan along with rack. Continue to roast until done, then cover and let rest. Carve into pieces. Serve alongside Brussels sprouts and garlic. Serve immediately.
SHARE